Last chance to enter for amateur science award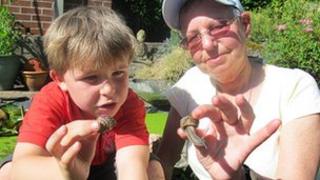 Just how common is common sense? Do fat dogs have fat owners? Why do I wake up just before the alarm clock goes off?
These are some of the questions that budding amateur scientists have entered for BBC Radio 4's So You Want to Be a Scientist? competition.
Applicants have until 23:59 GMT on 15 November to enter their idea online.
Four finalists will work with a professional scientist to turn their proposal into a real-life experiment. Along the way, they'll appear on Material World, Radio 4's weekly science programme, to tell everyone about their progress.
After five months of designing, refining and analysing their experiments, the finalists will present their results at the Cheltenham Science Festival in June 2012.
A panel of judges, chaired by Nobel prize-winning biologist Sir Paul Nurse, will choose the next BBC Amateur Scientist of the Year.
In 2010, the winner was 70-year-old grandmother and keen gardener Ruth Brooks, who discovered that snails have a "homing distance" of up to 100m.
Her investigation has been developed into a final-year undergraduate research project by Dr Dave Hodgson, her mentor at the University of Exeter.
They are now aiming to find out just how snails find their way home, before submitting a paper for publication.
Conkers and cables
This year we've been impressed by the range of ideas and the dedication of entrants. Lots of applicants are already conducting their own experiments at home to try to find answers to problems that have been bugging them for years.
Many have raved about the secret power of conkers to scare away spiders, and even deter clothes moths. Do they work, and if so, how?
Others have wondered whether the shape of our faces affects the sound of our voices, and if we can guess people's accents or nationalities just from seeing their photos.
Another frustrated amateur scientist has discovered a new universal truth called "Tangle Theory". No matter how carefully you wind away your headphones or garden hose, he says, they will always be tangled by the time you return. What forces are at work to make this happen?
Not on my kitchen table
As ever, some ideas are beyond our power to facilitate. One entrant wanted to prove that the speed of light is variable: "I'm looking for some help on this. I'm thinking about how to set up an experiment using the [International Space Station] and firing a laser at the Moon and the Earth."
Others accept that their ideas may need further development outside the scope of our amateur science award: "I have devised a system that will allow us to control the temperature of the Earth. I will not be able to demonstrate this on my kitchen table."
Unfortunately we can't accept inventions. After all, we already have Dragon's Den for budding entrepreneurs.
However, if we did, then an entry entitled "ELECTRIC PANTS" would definitely make the shortlist.
A device that collects and stores kinetic energy would be woven into underwear. Could this energy be used to power your mp3 player or mobile phone?
"If it worked, and everyone had a pair, think of all the electricity around!"
We await Evan Davies modelling his electric pants on the next series.
Find out more about So You Want to Be a Scientist? on Material World this Thursday on BBC Radio 4 at 16:30 GMT. The programme is repeated on Monday at 2100. You can enter your ideas online.