2014 test flight for Nasa's Orion spaceship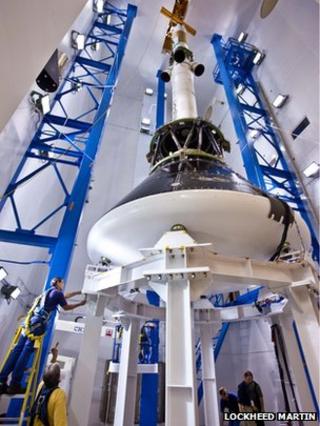 The first flight of Orion, Nasa's new astronaut vehicle, will take place in early 2014, the agency has announced.
For this particular mission, the capsule will be unmanned, however.
It will see Orion make two highly elliptical orbits of the Earth before re-entering the atmosphere and splashing down in the ocean.
The vehicle is being designed to take astronauts beyond the space station to destinations such as the Moon, asteroids and even Mars.
Nasa is also developing a dedicated new rocket, known at the moment only as the Space Launch System (SLS), to put Orion and any associated equipment in orbit.
Because the SLS will not be available until at least 2017, the Exploration Flight Test, or EFT-1, of Orion in 2014 will have to use an existing heavy-lift rocket.
This is likely to be the Delta-IV Heavy rocket that is used currently by the United States Air Force to launch its big surveillance and communications satellites.
The launch will take place from Cape Canaveral, Florida.
The new capsule is being built by Lockheed Martin Space Systems. The EFT-1 will provide the company's engineers with important flight performance data.
"The entry part of the test will produce data needed to develop a spacecraft capable of surviving speeds greater than 20,000mph (32,000km/h) and safely return astronauts from beyond Earth orbit," said Bill Gerstenmaier, Nasa's human exploration and operations associate administrator.
"This test is very important to the detailed design process in terms of the data we expect to receive."
The first manned flight of Orion may not occur until the 2020s. Much will depend on Nasa's future funding arrangements, which are being debated now by Congress and the White House.
As yet there is no "roadmap" for where the SLS and Orion might take humans, or when. President Obama has talked only about getting astronauts to an asteroid in the 2025 timeframe, and to Mars at some unspecified future date.
Nasa officials have mentioned other possible targets for Orion, including missions to geostationary orbit, 36,000km (22,370 miles) above the Earth, to fix broken, high-value telecommunications satellites.