Most England and Wales beaches 'meet new EU standards'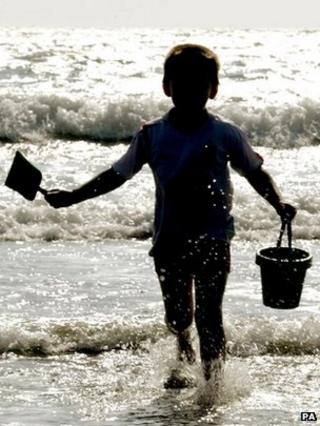 Nine out of 10 beaches and bathing waters in England and Wales have reached new EU standards to be introduced in 2015.
The figures have been released by the Department for Environment, Food and Rural Affairs (Defra) and the Welsh Government.
Some 98% of beaches passed the current minimum standards this year.
The Marine Conservation Society says investment must continue to make sure all beaches reach the new standards.
Bathing waters are tested between May and September and have to meet legal standards set by the EU.
This summer 492 out of 502 beaches and inland bathing waters in England and Wales met the basic minimum standard.
New tighter levels will apply from 2015 and 89% passed those standards this year.
Figures released in September showed that all 24 of Northern Ireland's major bathing beaches passed the current legal standard. In Scotland 95% of bathing waters passed.
The Environment Agency (EA) says today's figures show how much bathing water quality has improved over two decades but warns there is still work to do.
The EA's head of bathing waters, Christine Tuckett, said: "Farmers, businesses, local authorities and water companies all have a role to play in improving water quality. We need to act now to make the improvements necessary to bring our bathing waters up to the new stricter standards."
DNA tests
The EA has been using DNA tests to track sources of pollution in some areas.
Among the problems it has been investigating is contamination from household appliances that have been plumbed in incorrectly. That can lead to waste water flowing into streams.
It is also working with farmers to reduce run off from agricultural land.
The Marine Conservation Society (MCS) says that while investment by the water industry has paid environmental dividends, the Environment Agency's figures show 1 in 10 beaches don't yet meet the tougher standards that will be faced in 2015.
Dr Robert Keirle, MCS pollution programme manager said: "We must not be lulled into a false sense of security by today's figures, and maintain investment to ensure all bathing waters reach the minimum legal standard by 2015."
The campaign group Surfers Against Sewage warns that the beach figures mask the problem of sewage from storm overflows.
Combined Sewer Overflows (CSOs) can discharge rain water and sewage during heavy storms.
Surfers Against Sewage has set up a text alert service working with water companies and advised by Defra and the EA to send out what it calls real time sewage warnings.