Brazil plans eco-summit move over Jubilee clash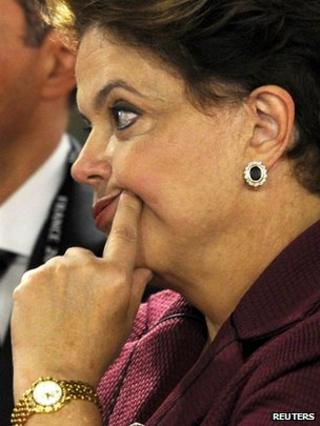 The Brazilian government is likely to move the dates of a key UN environment summit, as a clash with the UK Royal Jubilee threatens to keep leaders away.
The Rio+20 summit, seen as a chance to put the global economy on a sustainable track, is scheduled for 4-6 June 2012, co-inciding with the Diamond Jubilee.
That jeopardises the attendance of leaders from 54 Commonwealth nations.
Commonwealth and G20 governments have asked Brazil to solve the problem, and a two-week postponement is now likely.
The Brazilian government will confirm the proposed new dates of 20-22 June by the end of November.
Rio+20 falls 20 years after the first Earth Summit in the Brazilian city, and 40 years after the very first UN environment summit in Stockholm in 1972.
How to "green" the global economy to slow the rate of environmental degradation will be one of the major themes.
Elizabeth Thompson, the former Barbadian environment and energy minister who is one of the UN's executive co-ordinators for the summit, suggested the postponement would boost attendance.
"We knew the date was presenting difficulties for members of the Commonwealth, and this should be a good way of enabling more of their leaders to attend," she told BBC News.
"Attendance by developing countries, including members of the Commonwealth, is critical."
Last week, BBC News revealed that UK Prime Minister David Cameron would not be able to make the early June date, because he is needed for the Diamond Jubilee celebrations which cover the long weekend of 2-5 June.
Environment groups were dismayed, with WWF pointing out that then Prime Minister John Major went to the 1992 summit despite the IRA bombing campaign running in London at the time.
Felix Dodds, director of Stakeholder Forum which is playing a leading role in arrangements for the summit, said: "We welcome the news [of the likely date shift], and presume that Mr Cameron will now be able to attend."
Mr Cameron's office was unable to say as yet whether he would make the summit if the date change is confirmed, a Downing St spokesman told BBC News.
Last week, the UK parliament's Environmental Audit Committee (EAC) published a report on UK preparations for Rio, and top of its list of recommendations was that Mr Cameron should commit to attending, and do so early, in the hope of encouraging other leaders to do the same.
"The Rio+20 Earth Summit is a vital chance for world leaders to take action to avert a global environmental crisis," the committee chair Joan Walley MP observed.
In the run-up to the summit, a number of companies led by insurance giant Aviva have called for a UN declaration requiring businesses to report on the sustainability of their operations.
Follow Richard on Twitter