Wave and tidal power get more support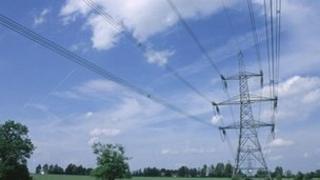 Wave and tidal stream power are set to get more funding in proposed changes to the level of support for renewable energy.
Subsidies for offshore wind will be reduced but more gradually and later than had previously been planned
The Government says the proposals, put out to consultation today, will cost less than leaving the funding as it is.
But DECC figures also show the cost will amount to £50 for an average household by 2016.
Renewable energy produces around 6.8% of the UK's electricity. A key factor in supporting the growth of the sector is a mechanism known as the Renewables Obligation. Different technologies get different levels of subsidies.
The Department of Energy and Climate Change (DECC) is reviewing those levels and has set out its proposals today.
One winner under the proposals is wave and tidal stream energy. It is still a very small sector but will now get far more financial help. Tidal stream energy uses underwater turbines.
One project is the Skerries Tidal Stream Array which is planned off Anglesey. It is being developed by Marine Current Turbines and RWE npower.
Andrew Tyler, of MCT, welcomed the prospect of extra funding for tidal energy.
He said: "This decision will ensure that the marine energy industry can begin to move towards commercial scale exploitation and that the UK can retain its position as a global leader."
Offshore wind will see funding reduced from 2015 onwards, but it will tail off more slowly than previously planned. Onshore wind will see a cut from 2013.
The industry body RenewableUK says that while the changes to wave and tidal will help build a domestic market it is concerned about some of the proposals for wind.
Maria McCaffrey, chief executive of RenewableUK, said: "Any changes need to be carefully balanced as the proposed onshore reduction would have a disproportionate impact on small community-based wind energy projects, as they don't enjoy the economies of scale which larger projects can harness."
The solar power industry had hoped for more generous support. It argued that more money now would help develop an industry that could quickly get off subsidies.
It also fears subsidies for small scale solar will be cut significantly under a different scheme, the feed-in tariff. The Solar Trade Association says it is perplexed by the Government's proposals.
DECC says that as well as providing clean energy, renewables will boost the economy. It predicts that offshore wind alone could provide up to 66,000 jobs in the UK by 2020.
Deputy Prime Minister Nick Clegg said: "Today's announcement makes clear the Government's commitment to supporting long-term investment in the UK's renewables industry."
Critics argue that financial support for renewables skews the energy market, leaving consumers to foot the bill.
DECC calculates that its proposed changes will cost between £400m and £1.3bn less than keeping the current funding bands. However, the same figures also show that year-on-year the Renewables Obligation will add significantly to what consumers pay.
It estimates that support for large-scale renewables currently amounts to £20 on the average household electricity bill. By 2016 that will rise to £50 per household.