From weeping willows to mighty oaks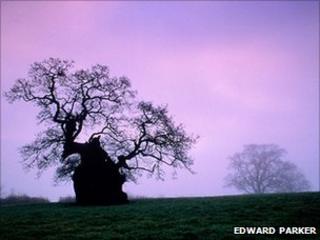 Writers have had a long and intimate relationship with trees.
Ever since the invention of the Gutenberg press, books have been written on paper derived from wood and, as Tracy Chevalier points out in the foreword to Why Willows Weep, authors owe trees a great debt for allowing them to communicate so elegantly with the world.
Well, now it's payback time. Why Willows Weep is a collection of contemporary tales from the woods written by some of the country's leading novelists, including Tracy Chevalier, Blake Morrison, Kate Mosse and Philippa Gregory, to raise awareness - and cash - to help protect and manage our dwindling ancient woodlands.
William Fiennes' portrait of the ash plays on the notion that trees have themselves borne witness to the myriad uses we've put them to: the chairs and tables, violins and cricket bats, fashioned from them.
Even the paper that writers resting in their shade have used to tell their stories. Perhaps, he suggests, the ash's curling branches and blackened, nib-like buds are attempting to write their own story.
Every copy sold will raise enough money for the Woodland Trust to plant five native trees.
"You can't create ancient trees you can only let them grow, and we need the new trees in the ground that will become the ancients of the future," says the charity's Jill Butler.
Standing by some of the mighty oaks in Windsor Great Park - trees that were reaching maturity when William the Conqueror first went there to hunt - you get a strong sense of that continuity, and the importance of trees in our history.