Forestry funding assessment system 'ineffective'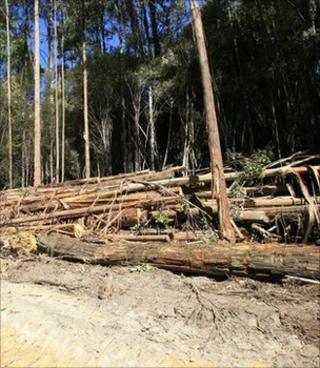 The system of how schemes to protect forest biodiversity and people in poor nations are assessed is ineffective, a study has concluded.
Community Forest Management (CFM) schemes have attracted billions of pounds to protect forested areas.
The study found that data on schemes' carbon storage was "patchy", while information on CFM programmes' impacts on local communities was even worse.
The findings will appear in Frontiers in Ecology and the Environment journal.
"In the past, the model has been to protect areas at a [national] level, which meant the government set up a protected area and managed it," said co-author Andrew Pullin from Bangor University, Wales.
But, he explained, this approach had led to a number of problems.
"Local people were resenting the implementation of a protected area because, perhaps, it used to be theirs and then it belonged to the government," he told BBC News.
"It was possible that they were being prevented from using the areas as they formerly had done and it was not benefiting them. Therefore, they were probably not respecting it or looking after it in a stewardship way."
CFM programmes were developed as an alternative model, and involved governments devolving a certain amount of decision-making power to the local communities.
"So local community committees have some say in how an area is managed and the benefits that local people can get from it," Prof Pullin observed.
This could include harvesting food or timber at levels that did not long-term damage, with the theory being that if local people benefited from the scheme then they would be more likely to conserve it.
"A lot of global funding agencies have, quite understandably, have bought into that idea and feel that it is a far more ethical way of donating money for the protection of areas," he added.
'Patchy data'
However, the team's study found that there were inconsistencies in how CFM schemes were monitored and evaluated.
"Some studies had quantitative measures of things like forest cover, average size of trees, and things like that," Prof Pullin said.
"But it was very patchy and I would not say that all the evidence was very good - sometimes it was completely absent.
"On the social side, it was worse. The main problem with the social and human welfare measures was that they were so varied.
"Each study would use a different set of measures, sometimes very locally relevant so that it was very difficult to come to overall conclusions about the effectiveness of the programme."
CFM programmes fall within the UN's the Global Environment Facility (GEF), which oversees billions of dollars of funding for more than 2,700 projects in more than 160 nations.
Within the GEF framework, there is a scientific and technical advisory panel. Prof Pullin explained that it was the experts that decided to review the effectiveness of CFM programmes, and this led to the team from the university's Centre for Evidence-Based Conservation carrying out their study.
He said that the success of CFM programmes were important for a number of reasons, such as being one of the main policy methods to protect forests, particularly in developing countries.
"We certainly need more protection for forests, both in terms of the biodiversity they contain and the implication for climate change in terms of carbon storage."
Also, he added: "Very large numbers of people in developing countries live near to protected areas and live in these forests. If we are going to protect the forests then we need to look after the human welfare and well-being as well.
"The global community is investing billions of dollars in these programmes. So if they are not working then we are invest a large amount of money, and we are not achieving our goals of biodiversity protection and increased human well-being."
The researchers' key recommendation was for the establishment of better monitoring and evaluation systems.
"The problem tends to be is that we seem to be investing in these programmes without really taking a longer term view of the effectiveness of the programmes.
"It is almost done on belief and very broad assumptions on their effectiveness without really vigorous evaluation of whether they work or not."
Prof Pullin warned: "We cannot go forward blindly investing more and more money in these programmes and not evaluate whether they have been working.
"That, to me, seems to be totally ludicrous."