Has the green movement failed?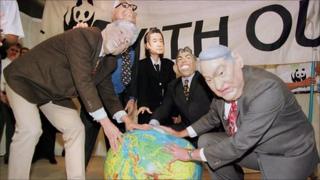 Three of the world's biggest environmental groups are celebrating their birthdays this month. Together they have 130 years of campaigning under their belt, but what has the movement really achieved?
Greenpeace and Friends of the Earth are both 40 years old, WWF is 50 but despite their longevity the leaders of all three organisations agree the movement has a long way to go.
For Yolanda Kakabadse, president of WWF, environmentalism has had two great successes.
"We used to fight and struggle for species as if they were independent of human life," she says. "Linking conservation and sustainable development together has been a great move.
"Secondly, we've put the environment at the table, at the top of the agenda."
WWF registered as a charity on 11 September 1961. Its manifesto was entitled, 'We must save the world's wildlife - an international declaration'.
Linking that wildlife - our natural environment - with our vision of humanity has been crucial says Kumi Naidoo, executive director, of Greenpeace International. "We've spread the idea that environmental justice is central to social justice."
But he concedes that successes for the green movement have been too few and too small. "We are winning very significant battles, but we are losing the planet."
His organisation, Greenpeace, was born from the fight against nuclear weapons and enjoyed quick success. Just one year after its first protest against nuclear testing - at Amchitka Island, Alaska in 1971 - the US government turned on its heels and left.
"When we add up all the victories, it does not equal the level of change that we need now," says Mr Naidoo. "We have to recognise that a lot of damage has been done."
There have been mistakes by campaigners along the way. "Quite often we took out the human factor," Mr Naidoo says.
But his organisation now realises they must connect people's daily lives with the environment to win broad support.
Billion dollar industry
In more recent years, the climate change message hasn't been explained well enough, admits Yolanda Kakabadse.
She fears the whole topic has become too much of an issue pushing other related important problems to the sidelines.
"Many critics of our organisations would like us to solve the problems of the planet," she says. "But, honestly, we are not powerful enough to do that."
Together, WWF, Greenpeace and Friends of the Earth boast 10 million supporters and an income of $1bn (£640m) a year.
"Our organisations have a budget that would allow us, maybe, if we put it all together, to solve the problem of one country but not the whole planet," she says.
One billion dollars a year represents huge goodwill and generosity from people around the world - but it also represents just 3% of the $30bn which oil giant Exxon Mobile enjoyed in earnings last year.
Nnimmo Bassey, chair of Friends of the Earth International (FoE), is vocal in his demand for change.
"With the climate change negotiations, the focus is on how to keep business as usual - it's about big business, it's about profit," he says.
FoE, whose slogan is 'Mobilise. Resist. Transform.' want to see big changes in the political landscape. "We need to recover sovereignty over political structures because right now the leaders are not hearing the people," he says.
Mr Naidoo sees other enemies to battle, "We need to up our game considerably when we look at the money, the power and the political access of the oil and gas industry.
"Success would be a world in which humanity learns to co-exist with other forms of natural life."
You can hear Nnimmo Bassey, Yolanda Kakabadse and Kumi Naidoo debate the successes and failures of the environmental movement on One Planet from the BBC World Service. Listen to the programme here.