Fifty-year-old red squirrel conservation project ends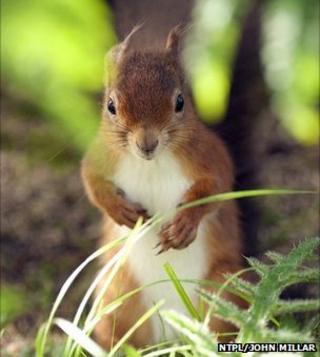 It has taken them fifty years, and untold blisters and bad backs, but a project to help protect Britain's dwindling red squirrels is finally coming to an end.
For decades, volunteers have been taking the ferry to Brownsea Island off the Dorset coast, and chopping down rhododendron bushes.
They might look beautiful when they flower, but the bushes tend to choke off all other growth, including the plants and trees that carry the squirrels' food.
Around 15,000 people, from cub scouts to pensioners, have helped Dorset Wildlife Trust clear its side of the island, and now, the last bush faces the chainsaw today.
"When we first came here in 1962... you could hardly walk around the island at all... the land was really dying because of the rhododendrons."
Importantly, Brownsea is free from the red squirrels' rivals - the greys. The now ubiquitous grey squirrels compete with them for food and spread a virus, squirrel pox, which kills the reds.
Richard Yeoman has been helping the project the whole time. He was up a ladder clearing out a squirrel box when I spoke to him... he knocks on the box first to make sure no-one's inside. He has had a surprised squirrel jump on him before.
"In the early days we hardly saw them (red squirrels) at all. And now, on a day like this, you can probably see a dozen".
As yet, no-one has officially counted the squirrels to see if the numbers are increasing, but many of the conservationists are convinced they are thriving as a result of their work.
Abigail Gibbs is from the Dorset Wildlife Trust. She said: "The rhododendron is a highly invasive plant so it completely takes over a habitat... there's no wildlife that would live in that habitat, at all.
"In the areas that are regenerating, there are more squirrels. Whereas before you go into an area, deep and dark with rhododendron, you don't see anything at all."
They estimate there are around 250 squirrels on the island, which at half a mile long, is about the most it can support.
That number should increase as the forest regenerates over the next decade or so. And the clearance work goes on. DWT has cleared its half of the island but the National Trust, which runs the other half, still has a little way to go.
It should be finished by the spring. Then there is the ongoing work to thin out the trees and manage the woods in the future.
Britain's red squirrels are in a fight for survival. A recent study from Oxford University suggests around half have disappeared in the past 50 years. It warns they could be gone from the English mainland altogether within 20 or 30 years.
Places like Brownsea offer the reds some sanctuary from their grey rivals.