Sea Launch rocket company returns to service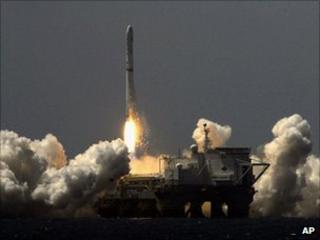 Sea Launch, the rocket company that operates from a converted oil rig in the Pacific, has returned to flight.
Saturday saw the firm put up its first satellite payload since emerging from bankruptcy protection last year.
The spacecraft, owned by Eutelsat, will beam TV channels into the Middle East and North Africa.
Sea Launch experienced a spectacular rocket failure on the rig in 2007, and was forced to restructure its finances as orders slowed and debts mounted.
The new business was now in a much better position to compete with other rocket operators, said company president Kjell Karlsen.
"We've a strong product and we look forward to getting back into business with this product," he told the BBC this month.
The company is now owned by a Russian-led consortium headed by Energia Overseas Ltd.
Sea Launch has its headquarters in Bern, Switzerland, but bases its rig-cum-pad and a command ship at Long Beach, California.
For a mission, the rig and control vessel are moved south to the equator at 154 degrees West Longitude.
An equatorial launch location gives a rocket a boost from the Earth's rotation, meaning it can lift heavier payloads into orbit.
Sea Launch is continuing to use the Ukrainian-Russian Zenit-3SL vehicle, which, notwithstanding its 2007 pad explosion, has a generally good reliability record.
Saturday's mission saw the rocket lift away from its floating pad at 21:18 GMT (13:18 PDT). It put Eutelsat's Atlantic Bird 7 spacecraft in orbit 67 minutes later.
Atlantic Bird 7 will be moved to a geostationary position at 7 degrees West, where it will take over the transmission duties of another satellite.
"Atlantic Bird 7 will not only be new and more modern, it will be larger and more powerful," Eutelsat CEO Michel de Rosen told BBC News.
"It will allow us to have more television channels and more high-definition channels, so we will be able to serve more customers."
Popular stations like al-Jazeera and al-Arabiya will be switched across to the new satellite once it is up and running.