Rocket company hopes for calmer waters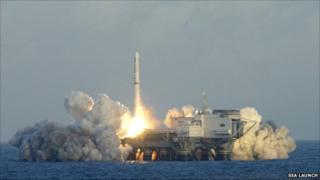 "We're back," is the rallying cry from Sea Launch President Kjell Karlsen.
The company that lofts big telecommunications satellites from a converted oil rig in the Pacific Ocean is preparing for its first flight since emerging from Chapter 11 bankruptcy.
Right now, that rig, known as Odyssey, is positioned in waters at 154 degrees West Longitude.
On its deck, a Ukrainian-Russian Zenit-3SL rocket has been mated with a 4.6-tonne spacecraft called Atlantic Bird 7.
And late on Friday (GMT), the rocket should shoot clear of its floating pad and carry this satellite to an orbital "perch" looking down on the Middle East and North Africa.
No-one doubts that Sea Launch is a clever idea.
Launching bang on the equator gives the Zenit a boost from the Earth's rotation, meaning it can lift heavier payloads than when operated from its other home - the Baikonur Cosmodrome in Kazakhstan.
The weather, too, is benign. The launch location is in the Doldrums. It is flat calm and there is none of the lightning that can be such a frustration at a spaceport like Cape Canaveral, Florida.
For sure, the rocket had a couple of failures (including a spectacular one in 2007) in Sea Launch's 30-mission, pre-bankruptcy existence, but the vehicle's reliability, generally speaking, is good - it is proven.
No, the issue is whether Sea Launch now has a business model that can survive what is set to become a claustrophobic launcher market.
"When we incorporated back in 1995, our owners at that time had a fairly thin capitalisation and lots of debt," Karlsen told me.
"That may work in really, really good times, but when times get a little tougher you need to have a buffer and we had no buffer for anything like the event that happened in 2007, and the subsequent loss of contracts. And that's why the structure we're in today with all equity and no debt is much to be preferred from what we had."
At the moment, the launcher market is dominated by two companies - Arianespace, which launches satellites from French Guiana on the Ariane 5 rocket; and International Launch Services (ILS), which uses the Russian Proton vehicle, flying out of Baikonur.
While Sea Launch has been sidelined, the pair have completely mopped up. But that may be about to change.
It is not just the re-emergence of Karlsen's outfit; it is the entry into the market also of California's SpaceX company.
We have heard a lot about SpaceX and how its Falcon 9 rocket will soon be used to send cargo and astronauts to the space station, but the upstart is also after a sizeable chunk of the satellite-launch market as well. And the super-low prices it is offering are starting to pinch orders from under the noses of Arianespace and ILS.
Frank McKenna, the CEO of ILS, described SpaceX at the recent Euroconsult satellite summit in Paris, as "an aggressive, disruptive force in the market". McKenna talks of overcapacity and of the probability that somewhere down the road, the launcher business will have yet another shake-out.
"We've nine launches under contract; that's about a billion dollars," counters Karlsen.
"I would like for the order book to be a little stronger, but I know there's a lot of people sitting, waiting to see this launch we're going to do for Eutelsat.
"Our capability is to launch five times a year; our business model now is based on a breakeven at three.
"The way we're set up, we can now weather any downturn and still be an active player in the market."
As Karlsen states, the satellite operator Eutelsat has the distinction of being the return-to-flight customer.
Its Atlantic Bird 7 spacecraft will be an important platform for Arab TV stations.
The likes of al-Jazeera and al-Arabiya will be carried on the satellite once it is up and running.
Paris-based Eutelsat has used a range of rockets and launch companies down the years, and will shortly even use a Chinese Long March vehicle to get one of its satellites into orbit.
The company's CEO is Michel De Rosen. "We strongly believe in competition. We face competition ourselves and we believe that we serve our customers better because we face competition from other satellite operators. So, we also believe in competition for our suppliers [the rocket companies]," he told me.
"The most important criterion when we chose a launcher is reliability. And reliability itself is two factors - it is the success of the launch; it is also the reliability of the date of the launch. That is the most important criterion.
"Another criterion that we can never forget is, of course, the price of the launch. And we believe that one reason why the industry of launchers has been a good supplier for us and our competitors is that they have been, and continue to be, in a competitive situation."
As I write, the Sea Launch return to flight is planned for 13:18 Pacific Daylight Time (20:18 GMT/UTC), at the opening of what would be a 74-minute launch window.
And here's a little bit of British space trivia because Sea Launch has strong Scottish connections: the rig originally worked off the Scottish coast before being readapted as a rocket pad. The Sea Launch command ship which travels with the rig and monitors the flight to orbit of the Zenit - that ship was built in the Govan yard in Glasgow.
Click on the audio on this page for in-depth discussions with Kjell Karlsen and Michel De Rosen.
The launch of the Zenit and Atlantic Bird 7 will be webcast here.