Liberty rocket toward ISS launches pushes ahead
By Jonathan Amos
Science correspondent, BBC News, Paris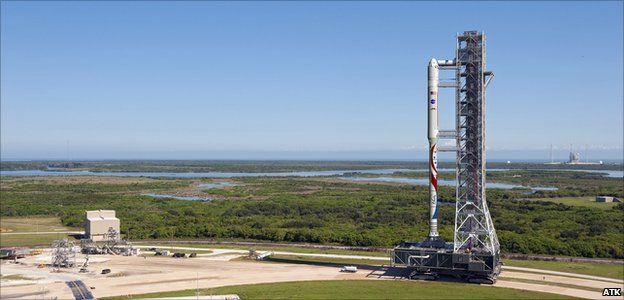 The Liberty rocket concept designed to launch astronauts to the International Space Station (ISS) is moving ahead.
Nasa has signed an agreement with Alliant Techsystems (ATK) to help the company develop the stick-like vehicle.
The bottom part of the proposed Liberty rocket would be based on the solid-fuelled boosters that helped get the shuttle off the ground.
The top half would use the liquid-fuelled core-stage technology and engine that powers Europe's Ariane 5.
No funding is available as part of the Space Act Agreement, just advice and technical support from the experts within the US space agency.
"We will offer… things like structural analysis, thermal analysis, vibration analysis - the hard core engineering capabilities you need to take two separate first stages and put them together in a unique combination," explained agency manager Ed Mango.
"We can check what ATK and [Europe's Ariane manufacturer, Astrium] have been talking about and the homework they've been doing."
Liberty is part of a range of solutions the US space agency is now considering as it looks to fill the gap left by the retirement of the space shuttle.
Today, the US has no means of launching its own astronauts and must rely on Russian Soyuz rockets to get the job done.
Nasa has invited the private sector to propose capsule and rocket designs under its Commercial Crew Development (CCDev) programme.
The idea is that some time around the middle of this decade, the space agency will start buying seats for its astronauts in these systems.
Utah-based ATK's proposal is for a rocket able to put about 20 tonnes in low-Earth orbit - the altitude occupied by the ISS.
It would not develop a capsule for Liberty; rather, it would offer the rocket to those companies that are developing crew vessels and who need a ride to get them into space.
ATK is best known for the four-segment solid rocket boosters that used to do the major part of lifting the shuttle stack off the Earth.
Liberty would use a first stage that incorporated a larger, five-segment booster.
This configuration has been in development for some years and was even tested with a firing on a fixed test bed last week.
It would be affixed to the hydrogen-oxygen cryogenic core stage of Europe's Ariane 5 rocket.
Although Ariane is recognised as a satellite launcher, in the early years of its development it was envisaged as a launcher for a small European shuttle.
ATK believes this heritage, together with its proven shuttle experience, make for a safe and fast solution to Nasa's needs.
"Ariane was initially designed to carry humans. It's not flying that way today, but the system is 'scarred' with various past redundancies that meet human-rating standards," said Kent Rominger from ATK Aerospace.
It is unclear, however, which capsule Liberty would launch into orbit.
Three spacecraft developers receiving Nasa support under the CCDev programme have indicated they would use a different rocket - an Atlas 5, which is produced by the company United Launch Alliance. A fourth potential capsule provider, SpaceX of California, has its own rocket.
"We're talking to all the folks out there, and we've had real good reception," Mr Rominger said. "Our goal is to be able to lift everybody, because performance-wise we can do that."
He stated that a Liberty rocket would also aim to grab a share of the satellite launch market.
Related Internet Links
The BBC is not responsible for the content of external sites.