Russia delays next manned space flight to ISS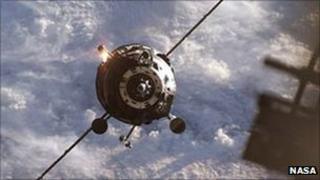 Russia has delayed the launch of its next manned mission to the International Space Station (ISS), after an unmanned cargo vessel crashed following its launch last week.
The return of three crew members from the space station will also be delayed, officials told Russian media.
The launch had been scheduled for 22 September. Officials now say it will happen in late October at the earliest.
The move comes days after Russia grounded its fleet of Soyuz rockets.
Investigators have said they want to determine the cause of last week's crash before launching further flights.
The unmanned Russian Progress M-12M cargo ship was carrying three tonnes of supplies for the astronauts on the ISS. Three of those six astronauts will now return to Earth around 16 September instead of 8 September.
Officials will need to "review all possibilities, including leaving the station unmanned" if they are unable to launch the next manned flight before the end of November, Alexei Krasnov, an official in charge of manned flights at Russia's space agency, was quoted as telling Interfax news agency.
The ISS, which serves as a research laboratory, has been continuously manned for more than a decade.
An investigation into the failure of the cargo freighter is currently under way.
The Russian space agency Roscosmos also announced a full review of its rockets and the creation of a working group that would "control the execution of the manned space flight programme".
The rockets which carry the cargo vessels and the manned capsules are similar.
The first and second stages (sections) of the Soyuz-FG space rocket used for manned launches differ from those of the Soyuz-U which carries the Progress freighter, but the third stage is identical in both rockets.