Nigeria launches two satellites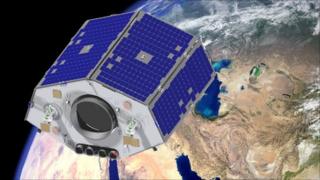 Nigeria has successfully launched two Earth observation satellites which could be used to monitor weather in a region seasonally ravaged by disasters.
The NigeriaSat-2 and NigeriaSat-X spacecraft were lofted into orbit aboard a Russian Dnepr rocket from a launch pad in the town of Yasny, southern Russia.
Nigeria collaborated with UK engineers on the project, and the satellites are being monitored from control stations in Guildford, UK, and Abuja in Nigeria.
Nigeria's President Goodluck Jonathan praised the successful launch.
Mr Jonathan called the event "another milestone in our nation's effort to solve national problems through space technology".
The imaging satellites could have a variety of applications, including the monitoring of disaster-prone areas.
Nigerian territory stretches into Africa's Sahel, a belt of land on the Sahara Desert's southern fringe that sees extreme weather conditions.
The Sahel experiences severe droughts in the dry season and devastating rainfall in the wet season. Floods last year displaced about 500,000 people nationwide, with most of them in the Sahel region.
The satellites could also provide Nigeria with the ability to enhance food security through monthly crop monitoring, assist with burgeoning urban planning demands and, through the development of engineering skills, advance the country's technological capability.
Both satellites were built at Surrey Satellite Technology Limited (SSTL) in Guildford, under contract with the Nigerian National Space Research and Development Agency (NASRDA).
But 26 Nigerian engineers worked alongside SSTL engineers in Guildford to assemble the 100kg NigeriaSat-X satellite.
Dr S O Mohammed, the head of NASRDA, commented: "NigeriaSat-2 will significantly boost African capabilities for remote sensing applications, specifically for natural resource management.
"This high resolution satellite will also greatly enhance image data available to the Disaster Monitoring Constellation. Through a comprehensive training programme, Nigerian engineers have worked on the design and build of NigeriaSat-X, benefiting Nigeria's growing space industry and inspiring development of new technologies."