Gagarin microsatellite launched from ISS on second try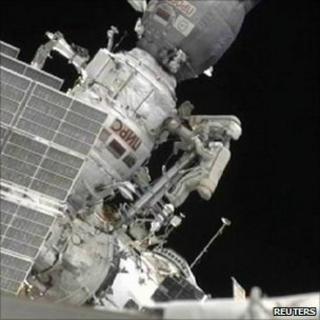 Russian cosmonauts carried out a fraught six-and-a-half-hour spacewalk on Thursday, releasing a student satellite commemorating Yuri Gagarin's first manned mission to space.
The Kedr satellite will send greetings to radio enthusiasts in 15 languages, as well as photos and pressure data.
Its release was delayed when cosmonauts saw it was missing one of two antennas.
The cosmonauts intended also to move a crane, but that was postponed to the next scheduled spacewalk in February.
The crane's relocation is part of a series of preparations for Russian renovations to the International Space Station (ISS). The crane is mounted on the station's Pirs docking module, which will be removed next year and driven to its end in the Earth's atmosphere by a Russian Progress space freighter.
The educational satellite is named after the call sign that was used during Gagarin's historic flight; it means "cedar" in Russian.
Cosmonauts Sergei Volkov and Alexander Samokutyaev exited the ISS with the 30kg satellite before noticing that one of its antennas appeared to be missing.
It later emerged that the second antenna had been folded inside the craft by engineers for the journey into space.
After three hours of debate, the satellite was released anyway; its missing antenna will degrade its reception performance but should not interfere with its ability to send data back to Earth.
Its mission will last about two months, and will burn up in the Earth's atmosphere in about nine months' time.