Climate unit releases virtually all remaining data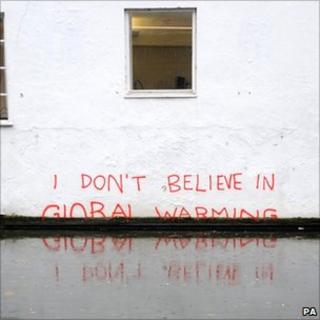 The University of East Anglia Climatic Research Unit, target of "ClimateGate", has released nearly all its remaining data on temperature measurements following a freedom of information bid.
The unit works with the UK Met Office to compile one of the world's most used records of global temperature change.
Most temperature data was already available, but critics of climate science want everything public.
Data from Trinidad and Tobago is being released against the country's wishes.
Following the latest release, raw data from virtually all of the world's 5,000-plus weather stations is freely available.
The only exceptions concern 19 weather stations in Poland, for which the Polish national weather service has declined to release data, for reasons it has not elaborated.
The requests were made two years ago by Jonathan Jones, a quantum computing specialist at Oxford University, and Don Keiller, a biologist at Anglia Ruskin University in Cambridge.
They demanded that the Climatic Research Unit (CRU) release data that had been sent to other researchers at Georgia Institute of Technology in the US, concerning weather stations from 30 degrees north to 40 degrees south of the equator - a belt around the world.
"It was very much a matter of principle," Dr Jones told BBC News
"This dataset wasn't particularly interesting, but we thought the data in general should be available, and we thought people shouldn't have to make FoI requests for it.
"So when earlier requests were turned down by the University of East Anglia (UEA) on what I thought were foolish grounds, I decided to push this to the limit."
Public order
The limit was reached last month when the UK Information Commissioner's Office (ICO) ruled that UEA had to release the data.
The Met Office, as the UK's national weather service, had approached the owners of data from more than 1,500 weather stations around the world - both inside and outside the zone covered by the FoI requests.
Many had given data to the Climatic Research Unit (CRU) on the understanding that it would not be made public - the main reason being that they charge for the information.
About 60% either failed to respond, or responded equivocally. Some were willing to have it go public, while Trinidad and Tobago asked categorically for it to be kept private.
UEA argued that breaking pledges of privacy could damage international relations, and relations between UK research institutions and partners overseas.
But the Information Commissioner ruled that public interest in disclosure outweighed those considerations.
Trevor Davies, UEA's pro-vice chancellor for research, said the potential for damaging relations was still a concern.
"This particular ruling might have unintended and potentially damaging consequences for international collaboration," he said.
"We regret having to release data from Trinidad and Tobago against that state's express wish; but we want to place beyond all doubt our determination to be open with our data and to comply with the ICO's instruction."
Data from 3,780 weather stations had been released earlier this year via the UK Met Office, while US portals such as the Global Historical Climatological Network also put raw readings into the public domain.
Concluding remarks?
The release marks the latest chapter in a story that has run for several years, with critics of climate science trying to force institutions to release raw weather station data rather than figures that have been processed and analysed.
The issue peaked just before the 2009 UN climate summit in Copenhagen, when a batch of e-mails and other documents was stolen from a CRU server and made public - the affair dubbed "ClimateGate".
Even though virtually all raw station data is now out there, this may not be the final chapter.
"I think people are far more interested in CRU's corrections, in homogenisation of data, and far more interested in their paleo-climatic data," said Dr Jones.
"And this process will carry on until the climate science community starts behaving like proper scientists."