Passport to a drug free Olympics?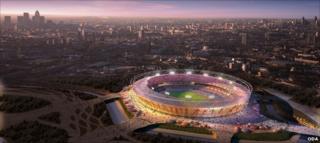 The 2012 Olympics in London will be the first summer games to use "biological passports" to try to stop drug cheats.
The International Olympic Committee confirmed that some competitors in cycling, rowing, athletics and triathlon will be using the passports, which are a long term history of an athlete's physiology based on key markers in the blood.
Scientists who support the passports' introduction say they are a major step forward because they will pick up even minute changes in a competitor.
But critics argue that the passport is an expensive bureaucratic exercise and cannot stop the determined cheat.
As the multi-coloured peloton of Tour de France cyclists whizzed along the Champs Elysee on Sunday, many commentators reflected that this was the most competitive and open race in years.
For a long time, professional cycling has been the sport most closely associated with doping. But that has changed, say cycling officials, because of the introduction of the biological passport in 2008.
Targeted testing
Simply put, the passport is an ongoing electronic record of variables in the blood of an athlete.
By monitoring changes in these variables, researchers can determine if a competitor is using illegal substances or practices.
No-one is yet claiming that the passport is the golden key to clean sport, but scientists who work in the field are quietly confident that the concept can also help to keep the London Olympics drug free.
Michael Stow is the head of science and medicine for UK Anti-Doping (UKAD), the organisation that is in charge of monitoring and analysing biological passports for some British athletes.
"At the moment, we are looking at blood profiles - and some of the key variables we look at are haemoglobin, hematocrit and reticulocytes," he told BBC News.
"They're all indicators of trying to manipulate your oxygen-carrying capacity, so potentially someone who is doping with erythropoietin or is doing a blood transfusion - we can see through the changes in these variables that doping is possibly taking place."
It is not yet clear how the passport will be deployed more broadly by the International Olympic Committee, which has responsibility for anti-doping during the games.
But Michael Stow believes it will most likely be used to target testing more effectively.
"What we know is that intelligence is becoming central to anti-doping, and what the passport is, is one piece of intelligence that feeds into that; and linked to that as well are our relationships with UK border authorities, customs and excise and the police. All these pieces of the jigsaw are really going to help us with our anti-doping efforts," he said.
But the idea of the passport is not universally loved. Critics say it is very expensive. Earlier this year, Australian scientists showed in an academic paper that it is possible to enhance performance by taking micro doses of doping drugs without altering the passport profile.
There are also questions about the legal status of the passport.
Previously, scientists analysed a sample and had to name the doping substance to declare a positive.
With the passport, sanctions can be imposed on the basis of changes in the profile that scientists think are indicative of doping.
"You are never going to get those purely legalistic issues explored fully before the Court of Arbitration in Sport," said David McArdle, a senior lecturer in the school of law at the University of Stirling.
"Those are issues that will get explored before domestic and European courts, and they may well have a different view."
Mr McArdle is also concerned about the impact on an athlete's human rights.
"I don't like this idea that privacy violations can be justified by reference to some notion of fairness, the ubiquitous 'level playing field'," he argued.
"Legally, the only arguments that work have to be health-related arguments. If these can't be substantiated, the whole edifice collapses on privacy grounds."
Indeed, the sports federations around the world have been very careful in charging athletes based on discrepancies in their passport.
To date, only a handful of prosecutions have taken place, almost all involving cyclists. Another high-profile case involved the Olympic speed skating champion Claudia Pechstein (see box).
Scientists are now working to add steroid and hormone profiles to the passport concept.
These will not come in time for the London Olympics but, according to Michael Stow, they would substantially expand the power of the passport and the number of sports where it would be effective.
"Today, we are looking at haemoglobin and the 'off scores' which are all linked to blood and the blood profile. But if we can look at testosterone and epitestosterone ratios and concentrations, and the metabolites of the steroids, and if we can look at IGF1 and P3NP which are markers of growth hormone. They are all going to be valuable tools for us to use."
The London games promises to be the most tested in history and the biological passport will play some role in this.
But there are also concerns that the passport is too expensive for developing countries - in professional cycling, it costs about $5m (£3m) a year. And there are ongoing concerns about litigation.
Instead of making the anti-doping process simpler and more effective, Mr McArdle says the passport might just be adding to the confusion.
"It's a dreadfully complicated, very messy picture that we've got in the next year coming up to London 2012.
"I wouldn't want to be the person to sort this out - but I certainly wouldn't want to be an athlete who falls foul of an anti-doping regime because the dice are loaded against you if you do."