JWST backed by Nasa amid call to scrap telescope mission
By Jonathan Amos
BBC science correspondent, Kennedy Space Center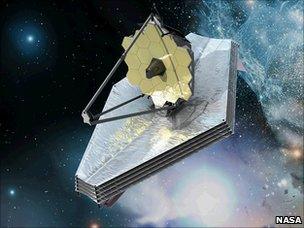 The James Webb Space Telescope remains central to Nasa's mission, deputy administrator Lori Garver says.
The agency chief was responding to moves in the House of Representatives to cull the troubled observatory, which is now $2bn over budget.
A House appropriations panel has put forward a bill that would clip Nasa's 2012 budget and end JWST funding.
But Garver told BBC News: "James Webb is obviously part of our future that we believe very strongly in."
She said the White House administration and the Nasa management would be working with the House and the Senate to produce a budget that would enable the agency to fulfil its science and exploration objectives. "The process is not over," she added.
Ms Garver was speaking here at the Kennedy Space Center in Florida where Nasa is preparing to launch its last ever shuttle mission.
The JWST is supposed to be the next great undertaking in space astronomy.
The telescope would have the biggest mirror ever sent into orbit and incorporate detectors capable of seeing the very first galaxies to form in the Universe.
But getting it ready for flight has proved to be a major technological challenge.
One recent assessment suggested JWST's total cost had ballooned from $3.5bn to $5bn, and that continued delays could inflate the final bill well beyond $6bn.
In parallel with the price escalation, the probable launch date has slipped deeper and deeper into the decade with some commentators wondering whether JWST might not even be ready to fly this side of 2020.
It is against this background that the House Appropriations Committee has drawn up it Fiscal Year 2012 Commerce, Justice, Science Appropriations bill.
It calls for a $16.8bn budget for Nasa, which is $1.6bn below last year's level and $1.9bn below what US President Barack Obama would like the agency to receive.
The panel would terminate funding for JWST if it had its way. But there is a long way to go in this story.
The Senate will have its view, and then Congress as a whole will have to come to a determination. Nasa itself is conducting its own internal review of the JWST project.
Ms Garver said she was hopeful that everyone could come to an agreement on the telescope's future.
"We absolutely do believe that we are working towards a budget that will deliver a James Webb telescope this decade. We are just now completing the bottoms up review of the cost to be able to get a funding profile to do just that."
JWST is not a US-only project; it has significant input from the Europeans and the Canadians.
Europe's contribution includes the launcher, an Ariane 5, to get the telescope into orbit. It is also leading the provision of two of the observatory's four instruments - MIRI and NIRSpec.
European Space Agency Director General Jean-Jacques Dordain was asked at the recent Paris Air Show about delays to the overall programme. He said Europe would continue working to its timeline and would not be distracted by the arguments over James Webb taking place in the US.
"We will be ready for a launch in 2016/17," he told BBC News.
"If the launch has to be later because Nasa doesn't have the financial wherewithal or the technical ability to go ahead in 2016/17 then we can put our instrumentation in storage pending a launch date. But I stress, we are not going to delay the delivery of our contribution because that would actually cost more, so we are going to finish our work as quickly as possible.
"Esa is not the bottleneck when it comes to the launch date," he added.
Related Internet Links
The BBC is not responsible for the content of external sites.