Zoo 'to create a generation of online conservationists'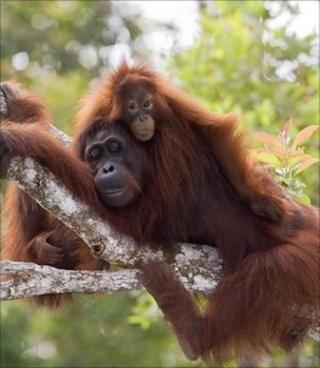 A UK zoo has launched a website that it hopes will help bridge a growing divide between young people and conservation.
Chester Zoo's Act for Wildlife site hopes social media, video and blogs will increase gadget-obsessed youngsters' interest in wildlife.
It will allow users to find out more about the effort to save species, put questions to staff working around the globe and follow their fieldwork.
Organisers hope it will help establish a network of online conservationists.
The zoo commissioned a poll that showed that 66% of adults felt that 10-year-olds were more interested in technology than wildlife.
The survey of 2,094 adults, conducted by YouGov, also found that 94% of adults felt that biodiversity conservation was important, yet only 15% actively helped a cause.
"The survey is a somewhat depressing summary of the world today," said Dr Mark Pilgrim, Chester Zoo's director general.
"While we are playing with games or chatting to our friends online, somewhere in the world at the same time, a rhino is being poached for its horn or a species is facing a battle for survival in its own territory."
Starting at home
As well as supporting work to protect species such as orangutans, Asian elephants and black rhinos, Act for Wildlife has also included a project called UK Wildlife.
"Although it is not the sort of work people would normally associated with a zoo, we are a UK-based organisation, and we must not forget that conservation also needs to start at home," explained project manager Michelle Duma.
"It is no good us going out and working on projects in Africa or Asia and getting people to care about their wildlife, if we cannot do that here in the UK."
Ms Duma told BBC News that a web-based resource was "absolutely the way to go".
"Not only does it allow our zoo visitors to go online and see what is happening and keep up to date with our projects, but it also means that we can broaden our reach and talk to the whole of the UK and further afield," she said.
"The projects that Act for Wildlife is supporting are sending us regular updates on what they have been up to, information about themselves. What we are trying to do is for project members to tell their story themselves."
One example was project members in Assam, India, posting images of their work with local villages to reduce conflicts between people and elephants.
"Then people can ask questions and engage in a conversation," Ms Duma added. "If they want to know more about a particular thing, they just have to ask."