Europe's Galileo sat-nav in big cash boost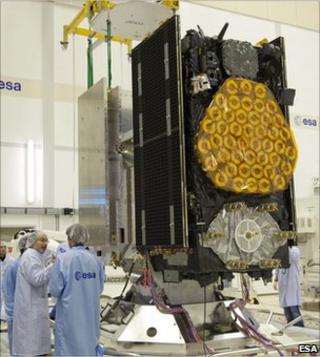 Sufficient savings have been found in Europe's Galileo sat-nav project for at least six additional spacecraft to be bought for the system before 2014.
The European Commission says it has about 500m euros (£440m) "in its pocket" which it will use to make the extra purchase.
It would take Europe's version of GPS from 18 operational satellites in the next few years to 24.
This should make a big difference to Galileo's performance.
It should also hasten the eventual completion date.
The announcement was made at the Paris Air Show by European Commission Vice President Antonio Tajani, who has overall responsibility in Brussels for the flagship EU space project.
"It is possible to reduce not only the cost but also the timing," he said. "And by reducing the timing, we reduce the cost. This is a very good cocktail - cost and timing together."
Mr Tajani was at Le Bourget aerodrome to sign the last two industrial contracts needed to make Europe's satellite-navigation venture a reality.
The combined value of these two agreements is 355m euros. They are both concerned with ground operations.
One (281m euros) is with Thales Alenia Space of France, who will be tasked with looking after Galileo's timing and navigation data, ensuring it is properly formatted for transmission by the satellites.
The other contract (73.5m euros) is going to Astrium-UK. Their work will ensure the good "housekeeping" of the satellites, including the maintenance and correct positioning of the spacecraft in orbit.
But it was the news that Mr Tajani had managed to find major economies in the project that dominated discussions at Le Bourget.
The much-delayed Galileo initiative has been under constant fire from critics for its cost.
EU member states had already committed 3.4bn euros to get 18 satellites into orbit by the end of 2014, and were told recently they might have to find a further 1.9bn to get a completed "constellation" of 30 satellites later in the decade.
The British government in particular has vociferously argued against any further funding, even though UK national companies are likely to be among the main beneficiaries.
London will be delighted to hear that Mr Tajani has now been able to rein in expected future expenditure.
Mr Tajani told the Paris Air Show event that the savings were thanks to the extra efforts made by industry to curb costs and from an improvement in the management of project resources as a whole. Of the 500m in reserve, and after other commitments are taken out, the EC VP believes he will have about 300m available to spend.
The timing is critical. It means Mr Tajani has cash available before the next EU budget, or Financial Perspective, to purchase more satellites.
The first two Galileo spacecraft are due to go into orbit in October, launched on a Russian Soyuz rocket from French Guiana. They will be followed by a further pair in 2012.
Another 14 are under construction, with the last satellite in this series due to roll off the production line in mid-2014. That would make 18 in total in orbit by 2015.
But Mr Tajani now has it within his power to maintain the pace of construction, either by asking the current contractor (OHB-System of Germany) to continue its production run, or by turning to the back-up supplier (Astrium) to produce the additional satellites in parallel.
Six additional satellites, making a total of 24, would take Galileo very close to full capability.
It assumes of course that sufficient rockets can be found to launch the extra satellites; and that there are no launch failures or malfunctions in the spacecraft themselves once they arrive in orbit. Were these problems to arise, the newly found budget opportunity could rapidly evaporate.
But if events go Mr Tajani's way the 24 satellites could be in orbit by 2015/16.
The savings mean also that EU member states will be asked for less money for Galileo in the next Financial Perspective.
Galileo is expected to improve substantially the availability and accuracy of timing signals delivered from space.
Its next-generation technologies should enable users to get quicker, more reliable fixes and be able to locate their positions with an error of one metre, compared with the current GPS error of several metres.
There ought to be particular benefits too in those locations where GPS signals currently struggle to penetrate, such as in high-rise cities.
With Galileo working alongside the American system, the performance improvements should see sat-nav work well in even the deepest of "urban canyons".
Soon, the majority of mobile phones will incorporate sat-nav as standard, and many new businesses are likely to spring up around the use of location and timing data on the move.
Colin Paynter, the MD of Astrium-UK, said it was time everyone, including the British government, got fully behind Galileo because of the opportunities it offered.
"We need to do more to get the downstream applications market excited in the UK," he told BBC News.
"Over the next year, while we at Astrium work on the delivery of the infrastructure, the government and industry needs to get out there and promote Galileo. There will be big revenues to be had by British companies in the future."