RSPB wildlife warning over EU farmland funding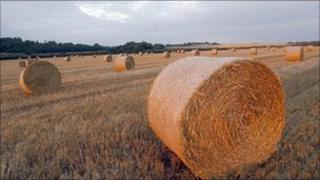 More than £400m worth of funding from Europe to promote wildlife on farmland in the UK could be about to be stopped, conservationists have warned.
The RSPB fears the money provided through the Common Agricultural Policy will be the victim of EU spending cuts.
The charity said such a move would be "savage" and could threaten the recovery of many wildlife species.
The government said the initiative was good value and any cuts should target farm subsidies for food production.
Under the terms of the Common Agricultural Policy, farmers are paid subsidies for the food they produce. Officially these direct payments - the lion's share of the CAP - are known as "Pillar One".
Many farmers across Europe also receive payments which can amount to thousands of pounds for developing initiatives on their land aimed at promoting biodiversity and wildlife. These rural development payments are called "Pillar Two".
'Ultimate extinction'
The RSPB said it understood the European Union was considering scrapping the Pillar Two payments to save money.
RSPB conservation director Martin Harper said: "Our countryside has faced many threats, but this would be really savage. We're staggered.
"Rewarding farmers for protecting threatened wildlife has provided a lifeline to many sensitive species, which would otherwise have ebbed away.
"If the EU continues with this plan there is no doubt that wildlife will suffer, with the possible ultimate UK extinction of some threatened species including the turtle dove and cirl bunting."
The RSPB, the UK's largest conservation group, said hedges, stone walls and waterways could also be affected.
The UK's Department for Environment, Food and Rural Affairs (Defra) echoed the RSPB's concerns.
A Defra spokesperson said the CAP budget "needs to decrease very substantially - but cuts should be focused on Pillar One. We're concerned by rumours that Pillar Two may be disproportionately in the firing line.
"Pillar Two is better value for money, contributing to economic growth, supporting the environment and agricultural competitiveness, and should have a larger share of a smaller CAP budget."
Proposals for the EU's new budget will be announced on 29 June.