Reaching out for sustainability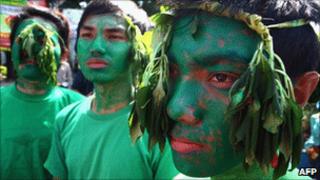 Malaysia is one of the developing world's success stories; a country that really is - well - developing.
In contrast to some other nations that receive that appellation, the last few decades have brought a steady rise in wealth and in other aspects of human development such as health and education.
(The UN Human Development Report has a very natty interactive tool able to demonstrate this - worth a play for its own sake.)
But the issue facing the country is what to do next.
Is future development best achieved by the traditional no-holds-barred dash for GDP at any cost, or via a "greener", more sustainable route?
There are adverts for the latter not too far away - notably South Korea, whose recovery package from the recession won plaudit after plaudit in sustainability circles with an estimated $87bn going on "green" measures - although critics might point out that the country originally became rich on the back of anything-but-clean industries such as steel and car manufacturing.
Anyway... the Malaysian government has decided that over the next decade it wants to join the family of high-income countries - but to do so as sustainably as it can.
And it's seeking advice from a novel source - the New York Academy of Sciences (NYAS).
Image makeover
A new body, the Global Science and Innovation Advisory Council, will advise the Malaysian government on a number of issues; it's had its first meeting this week.
They'll start with the palm oil industry - environmentally controversially, with social issues, yet a generator of income - in particular, they'll try to find ways of using waste produced during palm oil production.
Other issues flagged up for attention include management of water, transport, reforestation and use of information technology.
It's not entirely environmental; another limb of the scheme is to make sure enough Malaysian children are learning about science and technology in order that the economy can be driven by knowledge and skills rather than labour and raw materials.
"We are a responsible member of the international community and very conscious of emerging global challenges," the Prime Minister's science advisor, Zakri Abdul Hamid, told me.
"One of those challenges is of course global warming, and we want to play our part [in curbing it].
"At the same time, we would like to project Malaysia's image as a friendly and positive country and we hope we could bring in some foreign investment as well as strengthening our skills and our knowledge-based economy."
As far as getting advice is concerned, NYAS president Ellis Rubinstein observed wryly: "A lot of politicians, whether mayors or state governors or presidents, are looking for an alternative to the classic path of paying consultants a million dollars for a report that goes on the shelf and never gets read".
No compromise
The NYAS team has pulled together an impressive cast-list including Jeffrey Sachs, special advisor to UN Secretary-General Ban Ki-moon; Rita Colwell, former head of the US National Science Foundation; Nobel Medicine laureate Richard Roberts, currently chief scientific office with New England Biolabs; and Kiyoshi Kurokawa, former science advisor to the Japanese prime minister.
Many others are captains of industry rather than academics - but in high-tech industries such as biotech and IT, rather than more traditional fare for developing nations.
This initial set of 25 people can be supplemented at any stage, depending on the problem under consideration; and as other governments including those of Mexico and Russia have also discussed using the forum, one presumes its advice and conclusions can travel further than the corridors of power in Kuala Lumpur.
Make no mistake; Malaysia is not looking to don a hair shirt.
This is first and foremost a tool to aid development, and barely a country in the world would set a different priority.
But the indications are that because of the environmental toll, business-as-usual development across the developing world will incur costs down the line that will seriously dent economies as well as nature - which is why significant numbers of countries such as Costa Rica, Brazil, South Korea and even China are exploring the potential of taking a greener path.
A lot of opposition in the West to restrictions on greenhouse gas emissions, land use, pollution, and so on are based on the argument that "poorer countries won't compromise their development for environmental reasons - so why should we?"
"Compromising" development is generally off limits, it's true - but "steering development down a different track" appears to be gaining in popularity.
The more countries follow the Malaysian or Costa Rican or South Korean route, the more that argument in the West loses ground.