Extinction rates 'overestimated', says study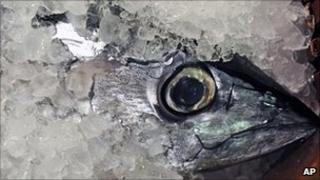 Current extinction rate projections may be overestimating the role of habitat loss on species, a study suggests.
Current methods are too simplistic and fail to take into account the full complexity of what influences species numbers, researchers observed.
Writing in the journal Nature, they said present figures overestimated rates by up to 160%, and called for updated, more accurate calculations.
But they did add that habitat loss was still the main threat to biodiversity.
Co-authors Professor Stephen Hubbell, from the University of California Los Angeles, and Professor Fangliang He, from Sun Yat-sen University, China, said existing mathematical models were flawed.
"The most widely used indirect method is to estimate extinction rates by reversing the species-area accumulation curve, extrapolating backwards to smaller areas to calculate expected species loss," they wrote.
"Estimates based on this method are almost always much higher than actually observed."
In ecology, a species-area curve is used to highlight a relationship between and area of habitat and the number of species found in the area.
They added that they defined extinction rate as the fraction of species lost as a result of habitat loss over a period of time.
"The area that must be added to find individual of a species is, in general, much smaller than the area that must be removed to eliminate the last individual of a species," the professors observed.
"Therefore, on average, it takes a much greater loss of area to cause the extinction of a species."
'Severe reservations'
Probably the most authoriative global assessment of the status of species is the Red List of Threatened Species, co-ordinated and published by the International Union for Conservation of Nature (IUCN).
Jean Christophe Vie, IUCN's species programme deputy director - who was not involved in the research - said it was good that it was a clear effort to "get the science right", but had very severe reservations about how it could be interpreted.
"I am quite worried about how this report could be used by people who are reluctant to take environmental issues seriously,"he told BBC News.
"We (IUCN assessors) do not use this system between area and species because we know there are flaws.
"We have explicit details in our guidelines that to estimate extinction is not something we should do; for example, we know that species are not evenly distributed in ecosystems; habitat loss is not the only threat."
Dr Vie explained that, very often, conservation agencies and NGOs tended to mobilise support when species crept towards extinction thresholds.
"What is the actual concern is the rate of decline in populations," he went on to say.
"You do not see that many extinctions, but you do see many more species that are ending up with very small populations.
"So, focusing purely on extinctions is - to me - a problem."
In their paper, Professors He and Hubbell warned that their study must not "lead to complacency about extinction (as a result of) habitat loss", which was a "real and growing concern".
"We have bought a little more time with this discovery, but not a lot," Professor Hubbell observed.