'No hold-up' from UK nuclear review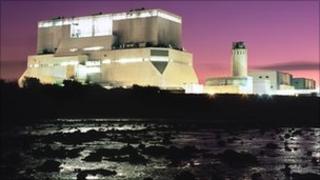 There is no need to curtail UK nuclear power as a result of the crisis at Japan's Fukushima site, according to the UK's nuclear inspectorate.
Chief inspector Mike Weightman says that extreme natural events such as the Magnitude 9 Tohoku earthquake and tsunami are "not credible" in the UK.
But his interim report, commissioned by government, does call for re-evaluation of safety systems at existing plants.
These include electrical and coolant systems, and flood protection.
Overall, he says, the UK nuclear industry reacted "responsibly and appropriately" to the Fukushima incident, with companies "displaying strong leadership for safety and a strong safety culture".
And the principles for assessing safety at UK plants are still sound, he says - as are procedures for licensing new reactors.
"The extreme natural events that preceded the accident at Fukushima are not credible in the UK," he said.
"But we are not complacent.
"No matter what the differences are, and how high the standard of design and subsequent operation of the nuclear facilities here in the UK, the quest for improvement must never stop."
Energy and Climate Secretary Chris Huhne described the report as "authoritative and detailed".
"It provides us with the basis to continue to remove the barriers to nuclear new build in the UK," he said.
"We want to see new nuclear as part of a low-carbon energy mix going forward, provided there is no public subsidy. The Chief Nuclear Inspector's interim report reassures me that it can."
Cool assessment
Despite the assessment that tsunami risks are neglible, the report does say flood protection may need re-evaluation at some sites.
Companies operating reactors should "undertake further work with the National Grid" to establish whether electrical power can be maintained on-site in the event of severe hazards.
The failure of multiple back-up electrical systems at Fukushima was the main factor leading to loss of cooling in the reactors and in one of the pools storing spent fuel rods.
In a bid to eliminate the possibility of gas explosions such as those that destroyed buildings housing reactors at Fukushima, Mr Weightman concludes UK operators should also review ventilation systems.
However, he notes that all UK reactors with the exception of Sizewell B use gas for cooling rather than water - meaning that loss of coolant should not result in a build-up of hydrogen.
The design of fuel ponds should be revisited to minimise the risk of damage from incidents inside a reactor nearby, the report says.
But it concludes there is no need to limit reactors to one per site, as has been proposed in the light of indications that an explosion in one of the Fukushima buildings may have damaged its neighbour.
Mr Weightman also endorses government plans, published last month, to establish an independent Office of Nuclear Regulation (ONR) outside the Health and Safety Executive where the office currently resides.
And despite his report being couched in terms that ask industry to "review" measures and "ensure the adequacy" of others, he said regulators could and would impose stiff sanctions if companies did not visibly try to absorb the lessons of Fukushima.
"We want them to take responsibility for their operations, to understand what's happened, to ask questions themselves," he said.
"But if we're not satisfied, they won't continue to operate and construct - if we're not happy, we will shut plants down."
Rush to judgement?
The chief inspector will shortly visit Japan, leading a fact-finding mission on behalf of the International Atomic Energy Agency.
Findings from that trip will inform the final report that he will deliver to the UK government in September.
Not all information on the Fukushima incident was as yet available, he acknowledged - but enough had emerged that some recommendations could be made.
Environmental groups say that with the situation still not completely under control, and with revelations emerging about Japanese companies having resisted warnings about earthquake damage down the years, it is too soon to make a final judgement.
"With brave emergency workers still battling to bring Fukushima under control, and no analysis yet from international nuclear authorities, it will take many months or even years before the lessons can be properly learned," said Doug Parr of Greenpeace.
"The interim safety report can only begin to ask the questions; it's inconceivable that a credible comprehensive report can be delivered by September."