UK breaks promise on nuclear power subsidies, say MPs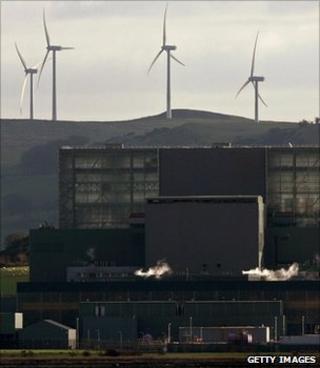 MPs have urged ministers to admit they are tacitly subsidising nuclear power despite promising that the industry would not receive such support.
The Energy and Climate Change Select Committee's report accused ministers of disguising the subsidy and distorting the reforms.
It also warned that unless the issue was resolved, the UK would fail to get the low-carbon energy system it needs.
The government said it was determined to create a low-carbon economy.
The committee's report focuses on the government's plans to shake up the energy market.
It is widely agreed that this is needed to meet the challenge of providing enough affordable electricity without compromising the UK's climate change targets.
The current structure was designed to supply plentiful cheap electricity, but not to ensure it was low-carbon.
Many experts have complained that government is failing to attract enough investment in the infrastructure needed to meet energy needs, and the MPs share their concern.
The report says the government is hampered by a coalition agreement that pledges to allow new nuclear power stations to be built "provided that they receive no public subsidy".
But the nuclear industry has refused to build new power stations without further inducements, so ministers are proposing long-term contracts at a guaranteed price for nuclear power.
They are also proposing to address another problem for nuclear - the low price of carbon credits in the EU emissions trading market.
Low carbon prices favour fossil fuel generators. So ministers are planning to introduce a floor price below which carbon permits will not be allowed to sink - any shortfall will be covered by revenue raised by taxation.
The government intends that both policies will benefit renewables too. Both policies will keep electricity prices higher than they would have been without the intervention to favour nuclear.
'One size fits all'
The MPs have accused ministers of adopting this "one size fits all" policy to disguise the tacit subsidy to nuclear.
Committee chairman Tim Yeo told BBC News: "The government has realised that nuclear deserves to be supported as a low-carbon source of energy.
"Because of the huge up-front investment, a firm needs reasonable confidence on a rate of return," the Conservative MP for South Suffolk added.
"The government should have been explicit about its determination to support nuclear like other low-carbon sources.
"But because it has been shackled by its promise, it has tried to disguise the support and produced a system that is so complicated that it probably won't deliver."
The MPs also urged government to stick to plans to allow generators to produce no more than 50g of CO2 per kilowatt hour by 2030.
The committee also called on ministers to reform the wholesale electricity market to break up the dominance of the six big energy companies.
Such action would allow new firms to bring in some of the £100bn needed for power infrastructure, they argued.
A government spokesman said this comment was misguided because ministers fully intended to attract new players.
"Electricity market reform (EMR) will provide support to all forms of low carbon generation, not just nuclear, and that will enable the shift to a low carbon economy," he told BBC News. 
"This is the biggest reform of the electricity market since privatisation, aimed at making sure we get the huge investment we need to cut emissions and keep the lights on, at the best possible price for consumers - which we know the existing electricity market will not do. 
He added that the government would consider the committee's recommendations and would respond "formally in due course".
Ministers are set to publish an Electricity Market Reform White Paper before the summer recess.