Space companies bullish on future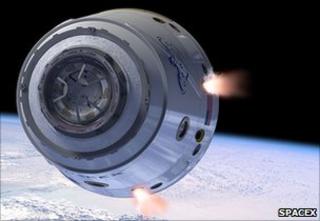 The four companies that recently won Nasa funds to develop astronaut "taxis" say they are convinced there will be a market to sustain their businesses.
SpaceX, Blue Origin, Boeing and Sierra Nevada Corporation are in line to receive $270m to help refine their spacecraft designs over the next year.
They plan eventually to sell seats in these ships to Nasa and other agencies wanting to put humans in orbit.
But the firms believe further Nasa seed funds are critical to that outcome.
"We still believe we can have people in a crewed Dragon capsule three years from right now," said Garrett Reisman, former astronaut and senior engineer at SpaceX.
"However, we would need additional support from Nasa to get us through those last two years."
Three of the companies confidently predict they will have people in orbit in 2014 or 2015. Only Blue Origin is reluctant at this stage to discuss timelines.
The US space agency believes its Commercial Crew Development (CCDev) programme can make the post-shuttle era a more affordable way to get astronauts into low-Earth orbit (LEO).
It is giving payments to the four companies to help them mature their vehicle concepts. The firms will only get the funds if they meet set milestones, and they also have to invest their own money towards the projects.
This represents a big change to the old way of doing business for Nasa. In the past, it has simply covered contractors' costs, plus a mark-up.
The four companies in this latest round of CCDev funding have differing ideas on how best to get people into space.
SpaceX, from Hawthorne, California, has already flown a rocket called Falcon 9 and a capsule called Dragon.
Boeing's Houston, Texas, team has a capsule design called CST-100 which could transport up to seven astronauts to the space station. Sierra Nevada Corporation (SNC) of Louisville, Colorado, is working on a shuttle-like vehicle called the Dream Chaser.
And Blue Origin, of Kent, Washington, is developing a cone-shaped crew vehicle that could also carry seven astronauts to low-Earth orbit.
"For customers in the future, safety is the absolute," said Rob Meyerson, president and programme manager at Blue Origin. "After that it's going to be price, and customers will be picking based on price. And I believe there is a market for multiple suppliers launching people into orbit, so long as the price is competitive."
The four companies have all been speaking here at the Kennedy Space Center ahead of the final launch of shuttle Endeavour.
They all expect to be using facilities and workers previously employed on the shuttle programme.
But they all anticipate a market in the future for their services that goes well beyond just Nasa.
"Nasa is but one customer and taking people to space is but one activity for our vehicle," said Mark Sirangelo, the chairman of Sierra Nevada Corporation Space Systems.
"We're designing a vehicle that has multiple purposes. We think there are other things we can do in space. The servicing mission [of satellites] in LEO, for example, is a big market. Having a shuttle-like vehicle that is modernised by 30 years and has the capabilities to do new things gives us other markets that we can look towards."
Nasa awarded about $50m in its first round of CCDev contracts, and it plans to substantially increase this funding next year to $850m.
John Elbon, the programme manager of commercial crew transportation at Boeing, said that support is essential if the companies are to close the gap between shuttle retirement and the launch of the next American crewship.
"Would we continue without Nasa funding?" he pondered. "I will tell you that our business model is dependent on government funding. That's just the way we structured it, the way it's laid out. If that funding were not there, we would continue at some very reduced level, I would assume, but certainly not at a level that would allow us to meet the dates [in our development schedule]."
Not included in the latest round of funding were the rocket companies that might lift the new entrants' vehicles into space. SpaceX has its own rocket, but SNC, Boeing and Blue Origin are all dependent on an independent rocket partner.
Nasa said it chose on this occasion not to give CCDev funds to these rocket partners because the limited money available meant it had to be spent in areas where it was most needed to advance the commercial crew concept.
"We felt the portfolio of companies we selected significantly advances the capability and availability of commercial crew systems. But actually there will be launcher work done as part of their overall system," explained Phil McAlister, the acting director of Commercial Spaceflight Development at Nasa headquarters. "If you look at Boeing and SpaceX, they have integration milestones where they're integrating the spacecraft with the launch vehicle," he told BBC News.