Alien search telescope is shelved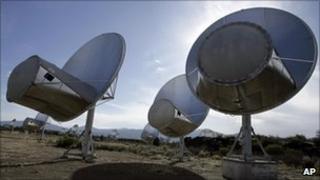 A monitoring system for potential extra-terrestrial communication has been shelved due to budget cuts.
The Allen Telescope Array (ATA) in California has been mothballed, according to the Search for Extra-Terrestrial Intelligence (Seti) Institute.
Funding for the observatory, which hosts the ATA, has been cut to one-tenth its former level.
The Seti Institute was established in 1984 to look for life beyond Earth.
The telescopes, at the Hat Creek Radio Observatory north of San Francisco, California, have a number of science goals, including searching for radio signals from intelligent life in the Universe.
"Effective this week, the ATA has been placed in hibernation due to funding shortfalls for operations of the Hat Creek Radio Observatory where the ATA is located," Tom Pierson, chief executive of the Seti Institute, said in a statement.