Skywatchers set for meteor show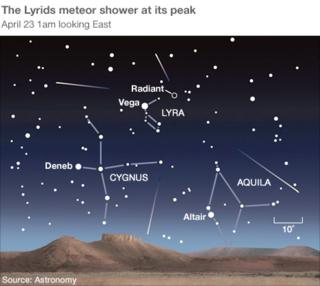 Skywatchers are hoping for an impressive show over the next two days, when the Lyrid meteor shower reaches its peak.
Between 10 and 20 meteors per hour can be visible under ideal conditions; but experts say the shower is fickle.
Light from the Moon, which is in a so-called gibbous phase, could interfere with observations this year.
But stargazers are advised to watch in the hours before dawn to get their best views of the "shooting stars".
The radiant, or source, of the shower is located near Vega, a bright star which is hard to miss.
Binoculars or telescopes are not required, experts say the naked eye is best for watching the meteors.
The shower is caused when the Earth passes through a trail of debris left by comet Thatcher (C/1861 G1).