London 2012 Olympics team publishes first green report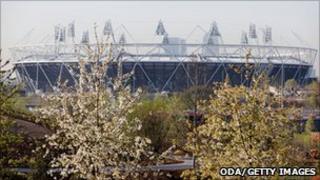 London 2012 Olympic organisers have published the first environment report for next year's Games.
The report says it is on target to cut the carbon footprint by 100,000 tonnes of carbon emissions in the procurement of materials and venue construction.
Organisers say they are on track to deliver the world's first "truly sustainable" Olympic Games, which will open at the end of July 2012.
They plan to publish a further two reports over the coming two years.
In the report's introduction, the organising committee's chairman, Lord Coe, outlined what he felt were among the innovative highlights of the London Games.
Before these Games, no-one had cleaned two million tonnes of contaminated soil on-site, the former Olympic champion said.
"No-one had tried to calculate the complete carbon footprint of a Summer Games, and no-one had built an 80,000-seat stadium as light in structure and environmental impact as ours."
David Stubbs, the committee's head of sustainability, said the concept of sustainability played a defining role in the whole project.
"It is not just the stadium, it is the velodrome and other infrastructure that we are putting in," he told BBC News.
"All venues have a strong sustainability story to tell. If you have got the commitment at the beginning and you make it an important part of how you procure your contractors and designers, and you put it in the brief then people will come up with solutions."
As a result, the main stadium was constructed using a range of techniques, including recycled material, Mr Stubbs explained.
"Put simply, it is a lightweight stadium and has a much smaller carbon footprint as a result."
Going for green
The report focused on the five main themes of the 2012 Games' environmental strategy: climate change; biodiversity; waste; inclusion and healthy living.
"What we wanted to do was to really understand those impacts and then direct our efforts to minimise them," he said.
"For example, nobody had looked at all the embodied emissions of building temporary infrastructure that would only be used during the Games and Paralympics.
"By building venues that are more akin to what is on the hire market, then it is possible to choose material that exists already."
As a result, he said, it was possible to cut carbon emissions by about 100,000 tonnes, the equivalent of taking 65,000 cars off the road for 12 months.
"I think that is a really significant thing," he added.
As well as carbon emissions, Mr Stubbs said the development of the 250-hectare main site included the goal of developing the largest urban parkland in Europe for more than 150 years.
He said that 45 hectares would be "ecologically managed" in order to ensure there was space to encourage and support biodiversity.
"This includes wetlands and river habitats that have been restored from what was, previously, very polluted land," he explained.
"Not only is this good for biodiversity, but we have taken about 4,000 properties out of a one-in-100-year flood risk by re-profiling the river banks.
"Rather than having straight-sided rivers, they have been opened out and made into wetlands areas that, potentially have a function in terms of flood alleviation."
However, he acknowledged that not everything outlined in the bid documents, submitted to the International Olympic Committee in 2004, was going to be delivered.
For example, plans to build a wind turbine that would have provided about 20% of the site's post-games energy needs have been scrapped.
"If we were to go back in time and rewrite the bit about an ambitious carbon target in order to address the size of the carbon footprint, we would not say that we were going to use a particular technology.
"It was a mistake, in a way, to getting locked into saying that we would have renewables.
"As the years have gone by, the market development for renewables in urban areas has not taken off."
But he added, overall the organisers had achieved far more in terms of cutting carbon emissions than was envisaged at the outset.
"I think the environmental benefits from our approach is far greater than if we had stuck to the very letter of the bid commitment and done nothing else."
Former chairman of the Sustainable Development Commission Jonathon Porritt, an sustainability ambassador for London 2012, said good progress had been made.
"The report... speaks volumes about the way in which the very high ambition level for genuinely sustainable Games in 2012 is being translated into action on the ground," he observed.
"There is still a long way to go, any many things still have to be brought to fruition, but progress to date is truly impressive."
The organising committee plan to publish two more reports. The next one is scheduled to be released next spring, and the final one will be available at the end of 2012 or beginning of 2013.