Champion magnolia 'Diva' enjoys bumper bloom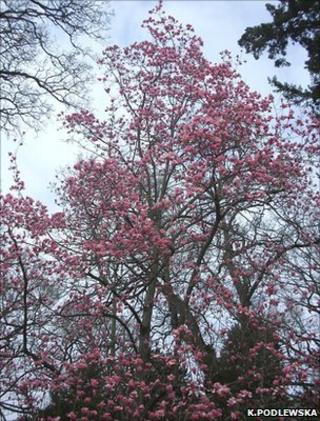 Britain's champion goddess magnolia tree is providing one of its best flowering displays in decades.
This year, the 24-metre high Magnolia sprengeri "Diva'" at the Westonbirt National Arboretum blossomed a few weeks earlier than usual.
The tree, planted in 1960, is descendant of a tree grown from seeds brought back from China in 1900.
Westonbirt has more than 140 magnolia trees, made up of specimens from 20 species and cultivars.
"It's been absolutely fabulous," said Hugh Angus, head of tree collections at Westonbirt.
"I have been here for 24 years, and it is certainly one of the best years I have seen."
"We do not really know why this is a bumper year, it certainly appears to be cyclic as it does not flower this profusely every year," he told BBC News.
"Some people suggest that a tree may produce more flowers than usual if it is under stress, others suggest that it is because a tree is particularly healthy."
Mr Angus said as far as the arboretum's goddess magnolia was concerned, he favoured the healthy option.
"This has been brought on by favourable growing conditions during last year. I would not like to suggest what those favourable conditions are but soil and position play a part, as does the weather."
A period of cool, dry weather as flowering time approached also helped, he explained.
"They can get battered - that is one of the downsides of magnolias; they can be magnificent one day, but then you get a heavy frost and it can devastate the flowers overnight."
Mr Angus added that magnolias and their flowers were "quite happy with temperatures down to -2C or -3C (28-26F), but if it drops below that then it really affects the blossom".
The Magnolia genus is an ancient group of more than 100 plants, and is considered to be among the first flowering plants to have evolved.
Their arrival on the planet pre-dated the emergence of bees, so the early species of magnolia were believed to have been pollinated by beetles.
The champion goddess tree was planted at Westonbirt in 1960, and is a direct descendant from a collection of seeds brought back to the UK in 1900 by famous plant hunter E H Wilson.
Mr Angus explained that the Diva magnolia had flowered a few weeks earlier than in usual years.
"It is funny because we have a big Magnolia campbellii in the same area of the arboretum, and it is normally a good week ahead of the Diva. But this year, they are both flowering at the same time.
"Equally, we have [another specimen], an endangered magnolia, and that normally flowers a week or more before the M. campbelli, yet they are all out together.
"It must be connected to the temperatures and how that has affected the trees."
Overall the Gloucestershire arboretum, managed by the Forestry Commission, has 82 "champion trees", an accolade awarded by the Tree Register of Britain and Ireland.