New UK Space Agency aiming high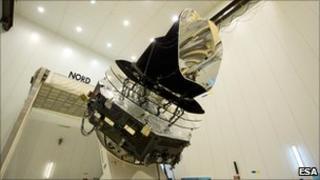 The UK Space Agency (UKSA) has formally come into existence.
The £240m-a-year executive body will be responsible for devising and implementing British policy in orbit.
The government has identified space as a sector that can deliver significant economic returns in the years ahead.
The industry enjoyed double-digit growth right through the recession, and ministers have promised financial and regulatory support to help it grab a bigger share of world markets.
Last week Chancellor George Osborne announced the creation of a space technology programme to drive innovation.
"We're backing this fantastic hi-tech, rapidly growing sector and look forward to it thriving," said science minister David Willetts, as he welcomed in the UKSA.
The UKSA replaces the British National Space Centre (BNSC) which was established in the 1980s to try to bring together the space activities and interests of a disparate group of Whitehall departments and science bodies.
By common consent, the BNSC never quite managed to corral this effort into a cohesive structure. The UKSA will be far more top-down in its approach.
Britain is a significant player in space terms, taking key roles on many of the missions organised by the European Space Agency (Esa).
But its domestic space programme is quite limited in scope - certainly compared with the likes of France, Germany and Italy.
Even as George Osborne was announcing his £10m investment in space technology, the French government was giving details of a £440m injection of funds into its space programme.
Nonetheless, the UK can boast some exceptional space scientists and its companies are in high demand around the world to provide components and services.
On Tuesday, for example, the US space agency (Nasa) released pictures taken by the first probe to enter orbit around the Planet Mercury. Those images were captured by camera sensors supplied by the British e2v company in Chelmsford, Essex.
"We're going to get outspent by the Brazilians, the Indians and some of our neighbours - but we can be smarter; we've had a reputation for being smarter," said Andy Green, the co-chairman of the Space Leadership Council, an advisory group to government and the UKSA.
"When it comes to integrating and commercializing solutions, then I think we have some of the best talent in the world. What we need to do is open up that technology and exploit it as fast as we can."
One of the UKSA's first acts has been to sign a co-operative agreement with its counterpart in India.
The memorandum of understanding is likely to lead to a series of British-built satellites being launched on Indian rockets to demonstrate the two countries' latest space technology.
To coincide with its establishment, the UKSA has also released a strategy document for the period up to 2015 and it is inviting comments.
The strategy says investment in space should be "targeted at areas that have the greatest potential for delivering economic benefits, scientific excellence and national security".
It draws heavily on a horizon-scanning exercise conducted by industry and academia in 2009/10. This sought to identify the key market opportunities - from internet provision via satellite to space tourism.
It claimed that if its recommendations were followed, the domestic space industry could have a 10% share of the global market within a couple of decades, creating 100,000 new jobs in the process.
Government seems to have taken the kernel of this report to heart, and has already signalled its intention to introduce regulatory changes that will make it easier for space tourism companies to operate out of the UK - companies like Sir Richard Branson's Virgin Galactic enterprise that will soon be taking fare-paying passengers on short hops above the atmosphere.
The changes would benefit also the Oxfordshire Reaction Engines company which is developing an innovative re-usable launch vehicle called Skylon.
"We've put great emphasis on growth and how to get the most out of space in terms of economic development," said David Williams, the UKSA's new chief executive.
"That's got to sit alongside the strengths we've traditionally had in science and in Earth observation. We're not trying to undermine those skills; we're trying to extract the most we can from them to allow industry to thrive and prosper."