UK space given boost from Budget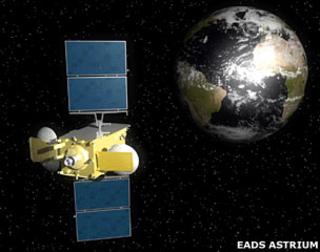 The Chancellor George Osborne has promised regulatory change and some extra money to help boost the competitiveness of the UK space sector, which is growing at about 10% a year.
£10m will go to fund new technologies used in spacecraft systems.
Mr Osborne has also signalled changes to the Outer Space Act.
These reforms are designed to lower the sector's insurance costs and to make it easier for future space tourism companies to operate out of the UK.
The government says it has recognised the success the British space sector has achieved in recent years and wants to offer it further support to maintain and grow its global market position.
Annual turnover is worth some £7.5bn, and employment is rising at about 15% a year.
The best performing areas are in so-called downstream activities - services such as satellite broadcasting and telecommunications.
But even the upstream sector - such as satellite manufacturing - has been performing well, averaging annual growth of 3% over the period 2006/07 to 2008/09.
The £10m on offer is part of a £100m injection of capital investment into science. The space money will be matched by industry. It will start a National Space Technology Programme, supporting the development of new components and systems that companies can then sell around the world.
The 1986 Outer Space Act is the primary piece of legislation in Britain governing all matters to do with space activity. Commentators have long called for it to be updated, especially in relation to the liabilities that cover space operations - if there was an accident involving a British spacecraft, for example.
At the moment, liabilities are essentially unlimited and this makes insurance premiums much more expensive for UK companies than their international competitors.
Mr Osborne has instructed the UK Space Agency to assess how this situation can be changed.
He also wants the licensing clarified for emerging space tourism companies, such as Sir Richard Branson's Virgin Galactic venture. They will use vehicles that are part-aeroplane and part-rocket, and it is felt the Act needs to be adjusted to cover their unique status. Until that reform is made, commentators say, space tourism companies may be reluctant to base themselves in Britain.
'Paper filings'
When the coalition government came to office in May last year it indicated that it would endeavour to implement the findings of industry's own Space Innovation and Growth Strategy (SIGS). This report identified key market opportunities - from internet provision via satellite to space tourism.
It claimed that if its recommendations were followed, the domestic space industry could have a 10% share of the global market within a few decades.
Industry figures saluted the Budget announcements, including the London-based satellite telecommunication giant Inmarsat.
"Inmarsat welcomes the government's recognition of space as a growth sector and its contribution to the UK economy," a company spokesman told BBC News.
And Ian Godden, the chairman of ADS, an umbrella group for the UK aerospace, defence and security sectors, added: "The space sector is an unsung success story, supporting 70,000 jobs in the UK and generating £7.5 billion per year to the economy. Industry and government have in place a shared plan to grow this to £40bn and this additional investment will assist in achieving that aim."
In its growth document released to coincide with the Budget, the government said it would also make efforts to try to secure more orbital slots for UK companies to position their satellites. This move was applauded by Colin Paynter of spacecraft manufacturer and services company Astrium UK.
He said: "There has been much discussion in the space community that 'paper filings' by organisations who reserve orbital slots with little intention of ever launching a satellite have impeded the development of even more innovative space services. A move to resolve this situation will make it easier for new entrants to the satellite services marketplace - which could greatly benefit the UK."
The £90m of non-space-related capital investment in science will be split between the national research campuses at Daresbury, Norwich and Cambridge (£80m) and the Isis neutron source at Harwell (£10m). The latter's money will be used to develop three new instruments. Isis is a giant machine that can probe the structure of matter. Scientists exploit its insights to advance a host of new technologies from drug design to improved mobile phones.