Budget paints in green and brown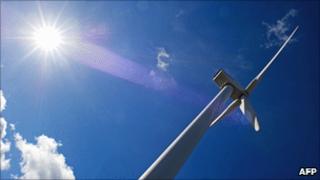 A minimum price for carbon and more cash for the Green Investment Bank (GIB) are among the Budget's tools to encourage a UK green energy expansion.
Last year, initial capitalisation was set at £1bn; this Budget will see that increased to £3bn. But GIB will only be able to borrow money from 2015.
The Treasury will delay tax increases on petrol and air travel, and will not yet tax private jets.
A "fair fuel stabiliser" will balance taxes between oil firms and drivers.
Chancellor George Osborne's final measure - a surprise, and one heavily applauded from the government benches - was to announce a 1p cut in fuel duty from 6pm Wednesday.
From now on, he said, the "fuel escalator" that hikes prices every year will cease to operate.
Instead, when oil prices are high, oil companies will pay extra revenue to the Treasury; if prices fall, motorists will pay more and the companies less.
"That's the fair fuel stabiliser, and the result for Britain's hard-pressed families," Mr Osborne told MPs.
He said moves to reform air taxation had been hampered by the realisation that some of the proposed changes - such as taxing passengers rather than aeroplanes - would be illegal.
Capital idea
The Green Investment Bank is designed to be a central plank of the UK government's policy of moving towards a low-carbon society, allowing investors to raise money for clean energy projects that commercial lenders would be reluctant to fund.
The £3bn initial figure for capital is considerably higher than outlined by the chancellor last year.
The additional sums will come, the government hopes, from sale of assets, such as the high-speed rail link between London and the Channel Tunnel.
The bank will begin operating next year, and the chancellor said private capital plus government injections should boost capitalisation to £18bn over the lifetime of this parliament.
But it falls a long way from the £550bn investment that could be needed over the decade to 2020 in order to meet targets on climate change, energy efficiency and renewables.
The figure was calculated by the commission that set out parameters for GIB last June.
Some analysts fear the bank will not be able to do its job if it is effectively tied to the Treasury until 2015.
"Delaying [the power to borrow] until the economy has recovered is like a doctor waiting for a seriously ill patient to recover before giving him life saving medicine," said Ed Matthew, director of Transform UK, the business alliance behind the campaign for a GIB.
"Commitment to set up a proper public green bank is to be strongly welcomed, but this decision on borrowing drives a dirty truck straight through the heart of the government's growth strategy.
"Green growth is the key to economic recovery."
Soft floor
The announcement of a carbon floor price, meanwhile, sets the UK apart from other countries in the EU Emission Trading Scheme (ETS).
The market carbon price has been bumping around 15 euros (£13) per tonne for several years, which is generally accepted as being too low to drive significant innovation.
The UK will now support the price for the electricity generation sector. It will be set at £16 per tonne from 2013, rising to £30 per tonne by 2020.
The low market price has principally arisen because the recession caused a major fall in greenhouse gas emissions across the EU, creating an effective surplus of emission allowances.
Environmental groups warned the floor price could hand a windfall to existing nuclear operators.
But Vincent de Rivaz, CEO of energy multinational EDF Energy that is among companies planning to build new nuclear power stations in the UK, hailed it as a step forward.
"The carbon price floor is important for all low carbon technologies as it restores the carbon price to what was originally intended.
"It will support the economics of renewables and carbon capture and storage, and can reduce the need for specific measures to support those technologies.
"For nuclear, helping to restore the carbon price to what was originally intended is important to encourage investment in existing plants and in new build."
However, there are moves at European level to tighten caps on emissions, and this could mean that the carbon price rises beyond the minimum levels set in the Budget.
Surveying the Budget overall, executive director of Greenpeace UK John Sauven, said that it did not match up to the Coalition's declared ambition of being the UKs "greenest ever government".
"George Osborne and his officials have crafted a budget that sabotages that ambition," he said.
"There's almost nothing in this Budget to protect the environment and spark a clean-tech jobs boom.
"As things stand, [David Cameron will] leave office with Britain still hooked on oil and China and California surging ahead in the race to build the low carbon technologies that should be developed here at home."