EU nuclear 'stress-test' gets ministers' backing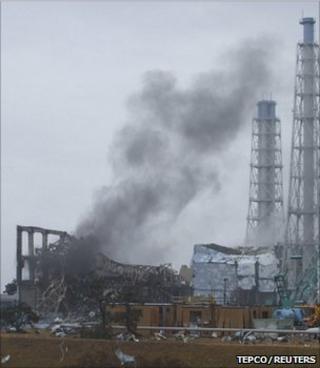 Ministers have agreed to develop a "stress test" for EU nuclear power plants in order to prevent events in Japan being repeated in Europe.
They supported calls to review existing safety measures at an extraordinary meeting of the European Energy Council in Brussels on Monday.
The assessment will consider a range of factors, including seismic activity, flooding, and power loss at reactors.
Environment groups have voiced concerns that the proposals will not be enough.
"There is a shared willingness among member states to launch the process for defining a comprehensive risk and safety assessment... of nuclear power plants in Europe," said Tamas Fellegi, National Development Minister for Hungary, which currently holds the EU presidency.
"We should aim to have this assessment underway by the end of the year," Mr Fellegi told reporters at a news conference following the meeting.
"Many member states have said that considering the circumstances, it would be really good to see the process underway before the end of the year."
'Fig leaf' fears
The events at the Fukushami Daiichi Nuclear Power Station - which include a number of large explosions, fires and the release of radioactive material - have lead to renewed concerns about the safety of using nuclear power to meet future energy needs around the globe.
"Europe should realise that it doesn't take a major earthquake to cause a cooling-related nuclear crisis -about half Europe's reactors are of particular concern," said Greenpeace EU nuclear policy adviser Jan Haverkamp.
"It remains to be seen whether the stress tests being talked about for nuclear plants will be more than a fig leaf for business-as-usual."
The environment group said any such assessment should be "compulsory, transparent, independent and go beyond current safety testing. They should also lead to the rapid closure of plants which fail this test".
Green MEPs also voiced their concern, saying they did not think that the proposed stress test would go far enough.
"Stress tests of nuclear reactors could be an important step on the road to a phase out of nuclear power but only if they are based on robust criteria and, crucially, carried out by independent experts," said Rebecca Harms, co-president of the European Parliament's Green MEPs.
"That the nuclear industry will play a crucial role in defining the criteria raises serious question marks about the whole process.
"It is also unclear how cumulative emergencies and multiple failures can be assessed in such a procedure or how human failure can be factored in."
'No illusions'
Speaking after the Energy Council meeting, Energy Commissioner Gunther Oettinger acknowledged that the use of nuclear power plants remained a divisive issue.
"Lets be under no illusion - not everyone agrees on nuclear power," he told reporters.
"There very few questions where national governments and parliaments have such a disparity of views as they do on nuclear energy - there are 14 states with nuclear power, and there are 13 without it.
"Germany is a country that has tried to speed up its dismantling of its plants, while Poland has already begun negotiations on starting the use of nuclear energy.
"But I think everyone agrees on one thing, which is security has to be top quality, at the top level."
"All ministers today are trying to set up a common European set of security standards in order to minimise the risk of a disaster."
Mr Oettinger reiterated the European Commission's view that the Europe's nuclear power sector needed to learn lessons from the accident in Japan.
"We have to revise the level of risk from earthquakes, floods, tsunamis, we have to revise the features of cooling safety systems. It is also a question of making sure that there are energy supplies to cooling systems.
"We also have to look at contingency and emergency plans. There are also other eventualities, such as crashing planes or cyber attacks, which we have to keep in mind.
The EU energy ministers will consider what progress has been made when they meet again in June.
The International Atomic Energy Agency's (IAEA) board of governors also convened on Monday to consider the report on director general Yukiya Amano's recent visit to Japan.
Addressing the 35-nation board, Mr Amano began by offering his "sincere condolences to the people of Japan", but warned that the crisis at the Fukushima Daiichi plant remained "very serious".
"In addition, high levels of contamination have been measured in the locality of the plant," he said.
But he added that although the priority remained the effort to stabilise the reactors at Fukushima, "one clear lesson" had been learned.
"The current international emergency response framework needs to be reassessed," he told the IAEA meeting.
"It was designed largely in the wake of the Chernobyl disaster in 1986, before the information revolution. It reflects the realities of the 1980s, not of the 21st Century."
The speed at which information now travels, and the huge volume of information in public circulation, are among the most significant changes since then.
"Live television and the internet provide constant updates on a crisis situation - not always accurately - to a global audience."
Mr Amano said the IAEA would be strengthening its team on the ground in Japan in the coming days to assist Japanese officials, before adding: "I have no doubt that this crisis will be effectively overcome."