Renewable heating scheme unveiled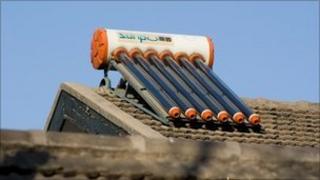 Subsidies for renewable heating systems in England, Scotland and Wales have been announced by the UK government.
Money will be given to those who choose technologies such as wood-chip burners instead of cheaper, but more polluting, fossil fuel heating systems.
Some £860m of government cash will be spent over four years on the scheme.
Most of the burning systems are likely to be located at schools, hospitals or in community housing because of the size of the equipment involved.
But there will also be incentives for householders who put solar panels on their roofs to heat water or who install heat pumps to get heat from the ground.
The policy is being introduced to help the UK achieve its EU targets for renewable energy (20% EU average, 15% for the UK).
The focus of government attention so far has been on low-carbon electricity - but more carbon emissions come from heating for homes and industry than from generating electricity.
Industry experts say the scheme is the first of its kind in the world. The government hopes it will haul the UK proportion of low-carbon heat from the current 1% towards the EU average of 10%.
Ministers have imposed sustainability criteria in the hope that the UK avoids a repeat of the palm oil controversy.
In fact, only solid fuels will get the incentive - not liquid fuels because it is more economic to burn wood than try to turn it into liquid fuel.
Currently, 70% of UK heat comes from gas. The government wants to reduce dependency on gas to reduce energy imports as well as cutting carbon emissions.
The scheme has been broadly welcomed by environmentalists though there is disagreement over the role of heat pumps. Critics point out that they only qualify as renewable heat if they are powered by electricity generated from clean sources.
There is also a fear that the incentive might follow the pattern of previous initiatives which have disrupted industry by introducing grants only to then withdraw them at a later date.
The new scheme is expected to increase green capital investment by £4.5bn up to 2020, stimulating a new market in renewable heat.
A full system of Renewable Heat Incentive (RHI) payments will be available to households from October 2012. The tariffs will be paid for 20 years based on every kilowatt hour of renewable heat produced.
Ministers expect the levels of support available for new entrants to the RHI scheme to decrease over time as the costs of the equipment and installation reduce through economies of scale.