EU backs away from 30% emissions target, leak shows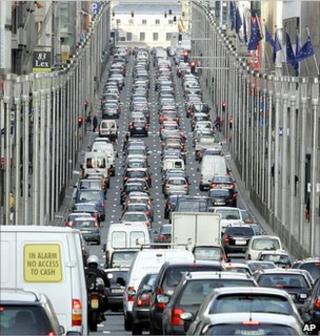 The European Commission will not call for tougher targets on carbon emissions despite analysis showing that doing so would be cost-effective.
On Tuesday the commission will unveil a road-map on climate and energy policy.
Its own analysis said that an EU target of a 25% cut by 2020 could easily be met, and would be economically better than the existing target of 20%.
However, a senior diplomatic source has told BBC News that the final version will explicitly urge sticking at 20%.
The news has disappointed climate campaigners who accused heavy industries of "scaremongering".
The commission is also set to recommend that some of the 20% reduction can be achieved through buying emission credits from overseas, rather than entirely through cuts at home.
The analysis - leaked in a draft version of the road-map two weeks ago - said the price of carbon should be maintained through "setting aside" some of the allowances to emit that EU nations will receive for the period 2013-2020.
However, the BBC's source said this set-aside would not now be happening.
The door will be left open to adopting a 30% target if there is a new global deal under the UN climate negotiations.
Split ambitions
The two commission directorates most closely involved in the issue - energy and climate - have been at loggerheads on the EU's ideal scale of ambition.
In the middle of last year, climate commissioner Connie Hedegaard released research showing that the economic slump had reduced emissions so much that the 20% or 30% targets would both be far cheaper to achieve than when they were adopted in 2008.
Emissions from industry, for example, fell by nearly 12% during 2009.
A group of academics calculated that given this fall, meeting the 20% target was tantamount to "business as usual".
Environmental groups have urged that in order to meet its "fair share" of global emissions cuts, and to re-invigorate the UN process, the EU should be contemplating 40%.
But energy commissioner Gunther Oettinger recently declared that going above 20% would lead to the "de-industrialisation" of Europe.
"Yet again it seems the scaremongering tactics of a handful of well connected industrial lobbyists have successfully castrated Europe's climate ambitions," said Baroness (Bryony) Worthington, director of the campaign organisation Sandbag.
"The smokestack industries of Europe are wrong when they claim that the only way to meet our targets is through de-industrialisation; investing in new clean energy technologies will actually boost economic activity," she told BBC News.
"They also fail to mention that many of them are handsomely profiting from the sale of spare emissions permits which leave them largely untouched by requirements to reduce emissions."
However, some branches of industry do want tougher targets. Earlier this week, a group of bosses from leading energy companies urged the commission to go for at least 25%.
"As leaders of utility companies we know that the benefits of early action far outweigh the costs of inertia or delayed action," they said.
"Private investors take their signals from such target and... this will deliver more new jobs in innovative environmental and clean technologies and will secure competitive advantage within the borders of the EU."
Short-term worries
Back in 2008, the EU set three parallel targets for 2020:
cutting emissions by 20% from 1990 levels
delivering at least 20% of its energy from renewable sources
increasing energy efficiency by 20%
The bloc is on target to achieve the first two, but not yet the third; and the commission is due shortly to release a document setting out what extra needs to be done to meet it.
Calculations done for the road-map show that if that is achieved on top of the renewables target, emissions will fall 25% from 1990 levels by 2020.
They also show that a 25% cut would set the EU on the most economic pathway to achieving an 80-95% cut by 2050, the agreed long-term goal.
Nevertheless, the BBC's source said, concerns over the short-term impact of such a target meant 20% would be explicitly retained, as would the caveat that international trading could be used to meet it.
Not all of the road-map's wording has been agreed, but the final version is due to be published on Tuesday afternoon.
Member states would then have to ratify it in order for its contents to become official EU policy.