Nepal climate loan hit by opposition storm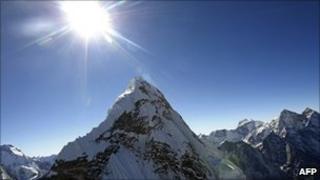 A loan to be provided by multilateral banks to help Nepal fight the impacts of climate change has kicked off a controversy after it invited criticism from civil societies and non-government organisations.
They say it is not fair to burden an already climatically vulnerable country like Nepal with loans in the name of dealing with climatic changes.
There are also some supporters of the loan, mainly from few government ministries who argue that the money is good for the country in the long run.
But even within the government's administration, there are conflicting positions.
Climate loans have already been a controversial issue internationally with several environmental organisations opposing them for being against what they call climate justice.
And now similar voices are being heard in Nepal, particularly from organisations working at grass root levels.
"It is like you thrash someone and give him a loan to get himself treated in the hospital," said Krishna Lamsal who works for Local Initiatives for Biodiversity Research and Development, a non-government organisation based in Pokhara, western Nepal.
"How can they even think about giving a climate loan when they know that climate change is not a problem we created, and that it was the developed world?"
Loan 'burden'
Gehendra Gurung of Practical Action that has worked in remote areas of the country to help people adapt to the impacts of climate change thinks the same way.
"Personally, I think if it was something that we had created ourselves, then we would have no problem with loan," he said.
"We are already at the receiving end and on the top of that we cannot accept being burdened by loan."
The US$60m loan is a component of the Strategic Programme on Climate Resilience (SPCR) being agreed between the government and the donors that include the World Bank, Asian Development Bank and the International Finance Corporation.
The remaining US$50m of the programme is a grant.
Critics say the entire amount either should have been given as a grant or Nepal should have taken only the grant component.
Many of these criticisms have appeared on an internet network of non-government organisations working in the area of climate change in Nepal.
"Currently, we have whims of climate change issues and the government tries to exploit it to bring more money for no use." Ranjeev Shrestha of the Integrated Effort for Development Nepal wrote in the network.
Ngamindra Dahal, a climate change expert, had a bit different take: "Asking questions such as why Nepal is accepting any climate funds (whether loans or grants) on what conditions, and; how these funds will mobilized to achieve what goals and objectives would help us understand the reality."
But Jagadish Baral, joint secretary at the forest ministry, who is on leave now wrote: "The United Nations climate convention is, anyway, going to earmark a substantial resource for climate change adaptation particularly for least developed countries like Nepal, we need to be hopeful for this."
Large response
Environment Ministry joint secretary Purushottam Ghimire who also heads the climate change division says he too has seen such e-mails.
"I have received nearly four hundred of them, but I have not responded to them yet.
"What people need to be clear about is it is a concessional loan that we will have to pay over a period of 40 years and what is most important is that we need not pay interest for it."
Ghimire said critics had the wrong impression that the loan was going for adaptation projects.
Nepal recently prepared a National Adaptation Programme of Action which needs funds to implement its projects aimed at helping people to cope with the immediate effects of climate change.
"The loan is not at all going for adaptation projects they are actually for climate resilience that include long term projects like, for instance, building bridges, embankments, development of resilient seeds in agriculture etc," he said.
While critics in the civil society are not convinced by the arguments, the government's own administration does not have a coherent position on the loan.
Just when the Environment Ministry has thrown its full weight behind the loan component of the SPCR, the finance ministry says it is not finalised yet.
"We gave a nod to an initial agreement after some other ministries supported the loan which we at first had resisted," said a source at the Finance Ministry.
"But that does not mean it has been finalised, it has not been yet."
The forest ministry officials, in the meantime, say they are not backing the loan.
"If the SPCR contains any loan for our ministry, we will reject it," Forest Minister Deepak Bohara told the BBC. "We have enough grants to implement our projects, we do not need loan."
The aid memoire prepared by the donors says the loan was the government's decision.
"The government of Nepal advised the mission of its plans to submit an SPCR proposal in the amount of 110 million dollars, requesting US$50m in grants and US$60m in loans….." it reads.
Despite repeated efforts, the project's lead donor, the World Bank could not be available for comment.
The donors are having a final round of meeting with the government in February.
Until then what shape the opposition takes remains to be seen.
If it grows, the question will be whether the climate action project will be able to weather the storm.