Inquiry into UK cuts in science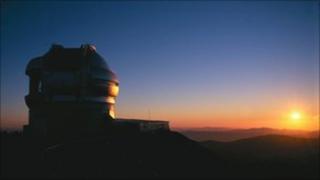 The House of Commons science committee has launched an inquiry into cuts in astronomy and particle physics funding.
Last year, the Chancellor George Osborne announced that the UK's science budget would be frozen in cash terms - a cut of less than 10% over four years.
But funding bodies also have to absorb cuts of 41% in capital expenditure - money spent on buildings and equipment.
The committee has invited views on the impact of reduced capital funding on UK capability in physics and astronomy.
These research areas could be more heavily affected by cuts to capital funding because of the large facilities they rely on, such as observatories and particle physics laboratories.
Previous cuts have forced a UK withdrawal from several telescope facilities such as the Gemini observatories and those based on La Palma in the Canary Islands, as well as particle physics ventures such as ALICE, one of the six main experiments at the Large Hadron Collider (LHC).
Astronomers have decried the decisions to pull out from Gemini and the La Palma telescopes because it leaves UK researchers with few options for observing the northern hemisphere sky.
Measured response
At a select committee hearing on 19 January, Professor Keith Mason, chief executive of the Science and Technology Facilities Council (STFC) - the funding body for physics and astronomy research - explained the Gemini decision by saying: "It's really a scientific dilemma, if you like.
"Do you concentrate your resources in producing the very best facilities that might be in a single location, or do you spread those resources in order to cover a broader set of activities?"
STFC continues to fund the UK's involvement in the European Southern Observatory (Eso), which operates major observatories in Chile such as the Very Large Telescope (VLT) and the Alma sub-millimetre array, which is to be completed over the next few years.
A source from the scientific community told BBC News that while researchers understood they had received a better settlement in the recent spending review than many other areas, policymakers should not give the impression that UK science was in rude health.
The Commons science and technology committee is inviting submissions on the following aspects of the cuts:
the impact of reduced capital funding on UK particle physics and astronomy capability
the impact of withdrawal from international ground-based facilities (for example the Gemini Observatory and Isaac Newton Group of telescopes) on the UK's research base and international reputation
whether the Science and Technology Facilities Council has sufficiently engaged with its research community in these two areas on its strategic direction and impacts of budget reductions
opportunities for, and threats to, education (outreach) and inspiring the next generation of astronomers and particle physicists.
On the capital expenditure question, Professor Mason said the organisation was in "a reasonable position going forward".
Asked whether STFC would have to use resource allocations to plug holes in capital expenditure, he said: "You can never say never because unexpected things happen. Things might break which are major; but, by and large, as best we can plan it, we are in a reasonably good shape."
He added: "In the context of new capital facilities, clearly, we are going to be proceeding at a slower rate than we might otherwise have liked."
Professor Mason admitted there had been a cut of 11% to the astronomy budget, despite an apparent increase in the particle physics budget. But he said it was a consequence of the decisions taken over the past few years to restructure STFC's astronomy portfolio.