Japanese cargo rocket for ISS lifts off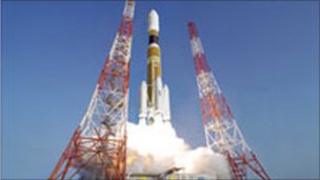 A Japanese rocket with supplies for the International Space Station (ISS) has lifted off from a remote island in southern Japan.
The unmanned rocket is carrying nearly six tonnes of food, water, clothing and experimental equipment to the station's six-strong crew.
Japan sent its first supply rocket to the space station in 2009.
Tokyo is aiming for a share of space transport after the retirement of the US space shuttle fleet.
The Kounotori 2 (Stork 2) rocket blasted off at 1457 local time (0537 GMT) from the Tanegashima island on Saturday.
It is expected to dock with the ISS on Thursday.
It will drop off its cargo and then load up with waste material before burning itself up on re-entering the earth's atmosphere.
Such projects have become more important because the US recently scaled back its ability to launch supplies to astronauts in orbit.
Japan's space agency Jaxa is also developing plans to use a modified Kounotori-type rocket for possible manned flights.