'Tyre fraud' arrests signal growing concern on waste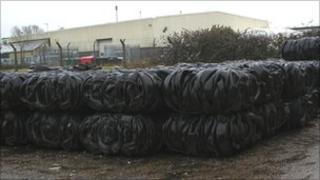 Officers from the Environment Agency and City of London police have arrested three men on suspicion of "tyre fraud".
Used tyres are supposed to be recycled if they cannot be re-used.
But there have been many reports of operations that appear either to be exporting unusable tyres overseas, or dumping them within the country.
These arrests conclude an eight-month investigation into a crime that the agency regards as on a par with illegal disposal of electronic or e-waste.
"The UK produces almost 50 million used tyres every year, and it is now illegal to send them to landfill - they should be recycled here in the UK," said Andy Higham, the agency's National Crime Team manager.
"But our intelligence suggests that illegal operators are charging tyre fitters to recycle old tyres here in the UK and then illegally exporting them overseas to avoid the recycling costs.
"As well as forcing other countries to deal with our waste, this practice also undermines legitimate tyre recycling businesses here in the UK."
The main destinations for illegal exports are thought to include Hong Kong and Vietnam.
What makes them illegal is that both have exercised their right under international waste treaties to block the importation of tyres that are not fit for re-use.
Inside plan
In addition to the exports, some of the UK's dodgy operators are dumping tyres at sites inside the country.
Several months ago, John Archbold leased one of his warehouses in Norfolk to a company that stocked the property with waste tyres.
"It then became apparent that they were not there any more," he told BBC News.
"And when we went down we found they had gone and had filled the place up with tyres."
The bill for disposing of the stock of at least 50,000 tyres may fall at Mr Archbold's door.
"I'm not overly keen on putting my hand up and saying 'we got done over', but if it prevents someone else being caught in the same way, then at least some good may come of it," he said.
The operation on Thursday detained a 60-year-old from Chelmsford, Essex, a 32-year-old from Spalding, Lincolnshire, and a 61-year-old from Swanscombe, Kent.
DCI Dave Clark, the senior investigating office for City of London Police, said: "This case is a prime example of how police and government organisations such as the Environment Agency are co-ordinating their efforts to stop people committing fraud."
Tyres do not degrade; and there have been regular incidents of major fires at tyre dumps, which can take many days to put out.
Of the UK's annual used tyre output, about a third are re-used with or without reconditioning; a further third are recycled into products as diverse as underlay and playground surfaces; about 10% form the lining for landfill sites, and the remainder are burned under strictly controlled conditions.
But as with e-waste, the costs associated with these streams are high enough to stimulate the evolution of a black market.
The Environment Agency is advising tyre fitters to be wary of contractors who will take tyres away for less than 50p per time.