Polar bears can be saved by emissions cuts, study says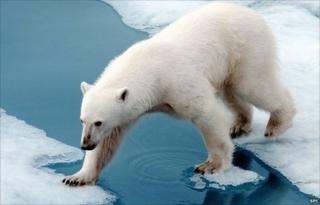 Cutting global greenhouse emissions might yet save the polar bear and its Arctic habitat, according to scientists in the US.
It has been suggested that emissions of greenhouse gases have already put the Arctic ice cap and the polar bear on an irreversible path towards extinction.
But a new study suggests rapid emission cuts could help preserve ice cover to save the iconic bear.
Details are published in the academic journal Nature.
A US Geological Survey team led by Dr Steven Amstrup predicted back in 2007 that two-thirds of the world's 22,000 polar bears would disappear by half way through the next century.
Arctic ice in retreat
1999

2000

2001

2002

2003

2004

2005

2006

2007

2008

2009

2010
This was based on industrial emissions continuing on a "business as usual" basis.
Elsewhere, a study suggested industrial emissions of greenhouse gases might have already put the world on target for temperature rises which would result in rapid and perhaps irreversible ice loss in the Arctic.
Dr Amstrup and colleagues now say that such dire forecasts might be avoided if industrial societies act quickly to cut emissions.
Key to their argument is the conclusion that there is no "tipping point" in the Arctic beyond which the battle is lost.
"In this paper we looked at what would happen if we allowed greenhouse gas emission to rise up to the level where some of these rapid ice loss events started to occur but [we] then arrested the increase in emissions at that point," Dr Amstrup told the BBC.
"What we found is if we did that, then ice didn't just continue to decline after these rapid loss events, but there was some substantial recovery and then maintenance of sea ice throughout the century."
"The good news for polar bears is we haven't crossed a tipping point beyond which polar bears and their Arctic habitat can't recover."
Positive feedback
It is thought that a retreating Arctic ice cap will allow the sun to heat the open waters created by the ice's retreat, and this in turn will accelerate the melting of the remaining ice cap, perhaps irreversibly. This effect is an example of what is termed a "positive feedback".
But Dr Amstrup's team found in their models that there were effects which might counter this feedback mechanism.
"There are a number of other thermodynamic factors, such as the rapid freeze that results when you go from open water to cold conditions which reappear in the Fall," he says.
"The rapid freeze tends to compensate for the effects that are working to provide these potential tipping points."
Dr Ted Maksym, of the British Antarctic Survey (Bas), said he agreed there was little evidence of "tipping points" in the Arctic.
"All the literature that has looked for a tipping point for sea ice has essentially found none. This has been drowned out a bit by the noise surrounding the 2007 minimum [for summer ice loss] and a possible 'death spiral' for Arctic sea ice."
"The suggestion that if global temperature rise is kept below 1.25 degrees that polar bears will survive is encouraging; but given current trends this is not likely to be achieved. So we are by no means out of the woods."
Professor Julian Dowdeswell of the Scott Polar Research Institute at the University of Cambridge, said such research was important, but that reality could turn out to be different - something the authors of the paper have recognised.
"To have a good physical understanding of the natural world, it's important that we do run predictive models," he said.
"But it's equally important to remember that they are only models and not reality. Usually there is an envelope of possible futures, rather than one future."
'Pizzly bears'
Should the mathematical models prove wrong, or should industrial society mot move to curb emissions, then this week's Nature journal also looks at how it may end for the polar bear.
Dr Brendan Kelly of the US National Marine Mammal Laboratory, and colleagues, write in a separate comment piece about the possibility of increased cross-breeding between the polar and grizzly bears.
A polar bear with patches of brown fur was shot by hunters in 2006 and this year, a hunter killed a polar bear thought to be the offspring of a polar-grizzly hybrid.
Dr Kelly suggests that as the ice cap melts and polar bears go ashore, the natural barrier between the bear populations will fall, and such hybrids, dubbed "pizzly bears" by some, might become more commonplace.
He and his team have found 34 possible examples of such hybridisation among sea mammals in the region. Cross-breeding between the bowhead whale and the endangered North Pacific right whale could quickly push the latter towards extinction, he warns.
"Plans must be developed immediately to monitor the genetics of Arctic animals and to deal with hybrids before current discrete populations merge and at-risk species are bred out of existence," the team write in Nature.