Nature talks see mood of compromise emerge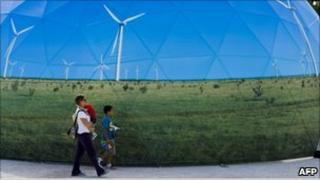 The second week of this year's UN climate summit opens in Mexico with signs that countries are keen to find compromise on key issues.
China and India have softened some hard lines that helped drive last year's Copenhagen summit to stalemate.
New draft agreements released over the weekend have so far been met with cautious approval.
However, fundamental divisions remain - not least over the future of the Kyoto Protocol.
Japan, supported by Russia and Canada, is steadfastly rejecting demands that developed countries agree new emission cuts under the protocol.
They argue that nations inside it account for less than one-quarter of global greenhouse gas emissions, so logically the protocol cannot play a bit part in curbing them.
However, some developing countries are adamant that developed countries must use it for further pledges.
They approve of its legally-binding nature, and the funds it generates to help poor nations prepare for climate impacts.
China's head of delegation Su Wei signalled that Beijing was prepared to be flexible.
"In the spirit of compromise, we would consider any options that would keep open the continuation of the Kyoto Protocol," he told Bloomberg News.
"Not the numbers, but a clear confirmation to have a second commitment period."
Together with India, China has also hinted at a gentler line on the issue of monitoring, reporting and verification (MRV) - in other words, how countries' should be assessed to prove they are complying with declared emission levels.
That developing countries should be subject to MRV has been a key demand of the US.
Over the weekend, conference chairs released new draft agreements aimed at capturing some of the views and demands made by different delegations.
At Copenhagen, the leaking of a draft accord early in the meeting proved a toxic ingredient; it had been drawn up in secret, not every country had been consulted, and it was seen to play into the hands of the rich nations.
Here, though, the Mexican hosts say they have been at pains to make this an open process, with every country welcome to inject ideas.
So far, responses have generally been favourable.
"The draft text provides a good basis for negotiation," said Gordon Shepherd, head of the global climate initiative at WWF, echoing the sentiments of other major environment groups.
"We now look to governments to accept the text, so we can move out of process and into the substance of the negotiations."
However, he pointed out that the carbon cuts stemming from the new documents - essentially the same pledges that countries put forward at Copenhagen - were not enough to keep the global temperature rise since pre-industrial times below 2C, by the UN's own analysis.
UK Climate Secretary Chris Huhne said that he - and by extension, the EU - was as determined as ever to push towards a new global legally binding deal.
"We believe a legally binding global deal is not just good for the planet; it also good for its inhabitants," he said.
"We do not underestimate the scale of the task. The negotiations are wide-ranging and complex; in their scope and their detail, they are without parallel.
"But the indications are good."