Multiple burials at Orkney Neolithic site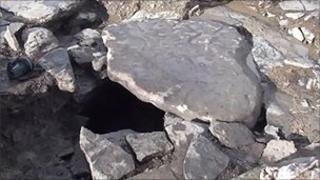 Archaeologists have recovered remains from at least eight people after initial excavation at a Neolithic tomb site in Orkney discovered in October.
A narrow, stone-lined passageway leads to five chambers, two of which have been part-excavated so far.
Fragments of skull and hipbone have been unearthed, some carefully placed in gaps in the stones, suggesting the 5,000-year-old site is undisturbed.
The bones point to a range of ages at death including a child of about six.
It is a "once-in-a-lifetime opportunity" to look at a Neolithic community, says Orkney Islands Council's county archaeologist, Julie Gibson.
Orkney contains some of the best preserved Neolithic remains in Europe. Just a few hundred metres from the dig at Banks on Ronaldsay lies the larger Tombs of the Eagles complex where remains of more than 300 people were found.
But the recent find is the first undisturbed burial of a Neolithic community to be discovered in Scotland in three decades.
Burial 'rituals'
"Science has moved on a lot in the last few years," says Gibson.
"It is now possible to find out where someone grew up, for instance. And in the case of the Amesbury Archer, found near Stonehenge, it could be seen that he had travelled from the Alps.
"It is by no means certain that all the people in this tomb will have been born here."
There are signs of rituals taking place at the site, for instance the complex was filled with layers of earth suggesting repeated use over a period of time. And large stones were used in the construction and sealing of the chambers.
The site was discovered accidentally during landscaping with a mechanical digger which damaged one end of the complex. The underground site is now subject to flooding and archaeologists are keen to investigate the site while it remains undisturbed.
Initial excavations carried out by the Orkney Research Centre for Archaeology have now been completed and there are plans to return to the site in the summer. The dig has been sponsored by Orkney Islands Council and Historic Scotland.
The archaeological team have posted online videos illustrating the excavations.