New energy sources vital to tackle climate change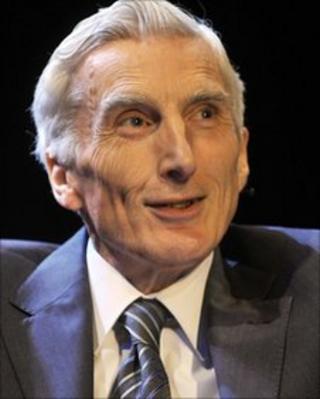 The president of the UK Royal Society, Lord Rees, has said that it is "essential" for governments to prepare for the worst effects of climate change.
"The concentration of carbon dioxide is rising inexorably," said Lord Rees, "the science is firming up and that tells us that there is a risk of serious climate change in the next 50 years.
"Even though there is uncertainty, I think that it is essential to prepare for the worst case".
Part of that preparation is to invest more in developing more diverse and cleaner energy technologies, he said.
"If you look at the R&D level in energy compared with health and medicine, it's very very low and I think it's important to increase it because we are going to need new sources of energy to replace coal fired power stations around the world".
The government currently spends about £600m a year on energy research whereas the figure for medicine is £1.4bn.
Lord Rees was speaking ahead of the closing ceremony of the Society's 350th anniversary. He told BBC News that it was important for the international community to take steps toward reaching an agreement curbing CO2 emissions at the UN Climate Summit in Cancun in Mexico. The summit started on Monday.
He said that solar energy offered a lot of potential in the medium to long term. But in the short term the UK should press ahead with replacement generation of nuclear power stations.
"If we look very far ahead we can be optimistic about solar energy and I think 50 years from now we can think of getting a lot of Europe's solar energy from North Africa. But in the short term if you want to keep the lights on you are going to need some nuclear power."
Lord Rees also told BBC News that he was concerned about current funding levels for UK science.
The Chancellor, George Osborne, announced last month that there would be a freeze on spending over the next four years - amounting to a cut of 8% or 9% in real terms. The announcement was made as part of the government's comprehensive spending review which saw deep cuts in many areas of government spending.
Far East expansion
Lord Rees however believes that research spending should be boosted once the economic situation improves.
"We are in a situation where the US, Germany, Singapore and the countries of the Far East are expanding their investment and it's crucially important that we in the UK - which is number two to the US in most measures in our science - should try and stay that way.
"We have to remain attractive to mobile talent from around the world and send a message to young people that science and technology are areas that they can do world class work in this country."
Lord Rees steps down today as president of the Royal Society as his term of office comes to an end. His valedictory comment to BBC News was that many of the challenges confronting the world in the next 10 or 20 years are going to require the best application of scientific knowledge.
"That's going to involve cooperation among different nations and I think one thing that scientists can do is to help with that because science is broadly international, crosses political divides very easily and I think by emphasising the importance of these long term issues we can help politicians who can otherwise tend to focus on more immediate questions."