Italy lights up for space station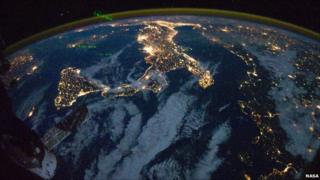 Astronauts have taken a spectacular nighttime picture of Italy from the Cupola observation deck of the International Space Station (ISS).
The image looks north over Sicily and the "boot" of Italy. The Mediterranean Sea dominates the foreground.
The domed Cupola is attached to the underside of the station and is used to control robots working on its exterior.
Its amazing views also mean it has become a popular place for astronauts to relax and gaze over Earth.
The Cupola was fitted to the station in February by a crew of the Endeavour shuttle.
It takes the shape of a dome, with six trapezoidal side windows and a circular top window of a little under 80cm - the largest window ever built for space.
The structure is a key European Space Agency contribution to the ISS project.
It was constructed by Thales Alenia Space (TAS) in Turin in northern Italy. TAS has provided more than half of the pressurised volume on the US side of the station.