Huge antenna launched into space
By Jonathan Amos
Science correspondent, BBC News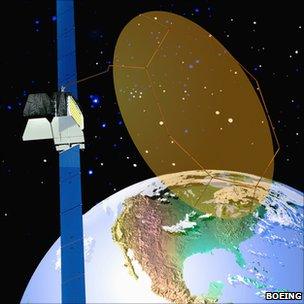 A US satellite carrying the biggest commercial antenna reflector ever put in space has been launched successfully from Baikonur in Kazakhstan.
The mesh structure on the Skyterra-1 spacecraft is 22m (72ft) across.
It will relay signals for a new 4G-LTE mobile phone and data system for North America run by Lightsquared.
Callers whose networks are tied into the system will be automatically switched to a satellite if they are out of range of a terrestrial mast.
Lightsquared is the latest effort to try to establish a hybrid satellite-terrestrial system in the US.
Two previous ventures ran into financial problems. Both Terrestar and DBSD North America had to seek legal protection under Chapter 11 bankruptcy rules while they sought to restructure enormous debts built up as they rolled out their systems.
Lightsquared has promised a different approach. It says its business will be wholesale only. It will be selling capacity to carriers who wish to offer go-anywhere connectivity to their consumers, be they phone or data users.
The system will be capable of supporting smartphone-sized devices, it says.
Under a schedule approved by the Federal Communications Commission (FCC), the company has to have a ground network of terrestrial stations in place to serve 90% of the US population by the end of 2015.
The Skyterra-1 satellite was launched from Baikonur on a Proton rocket at 2329 local time on Sunday (1729 GMT)
The 5.4-tonne satellite will be located at 101.3 degrees West longitude and is expected to have a service life of 15 years.
The launch was the 10th Proton flight of 2010, and the seventh organised by International Launch Services, the company that sells the Russian rocket to commercial operators who need to get satellites into orbit.
The 22m-antenna on Skyterra-1 should be deployed by the end of the month. A second satellite, Skyterra-2, will follow in 2011.
Related Internet Links
The BBC is not responsible for the content of external sites.