Eggs with the oldest known embryos of a dinosaur found
By Katia Moskvitch
Science reporter, BBC News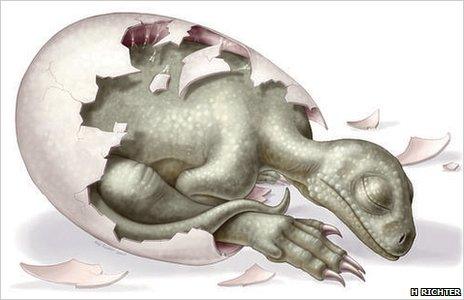 Palaeontologists have identified the oldest known dinosaur embryos, belonging to a species that lived some 190 million years ago.
The eggs of Massospondylus, containing well-perserved embryos, were unearthed in South Africa back in 1976.
The creature appears to be an ancestor of the family that includes the long-necked dino once known as Brontosaurus.
The researchers used the embryos to reconstruct what the dinosaurs' babies might have looked like when they roamed the Earth.
Having studied the fossilised eggs, the team, led by Professor Robert Reisz of the University of Toronto Mississauga in Canada, discovered that the embryos were the oldest ones ever found of any land-dwelling vertebrate.
"This project opens an exciting window into the early history and evolution of dinosaurs," said Professor Reisz.
"Prosauropods are the first dinosaurs to diversify extensively, and they quickly became the most widely spread group, so their biology is particularly interesting as they represent in many ways the dawn of the age of dinosaurs."
Massospondylus belonged to a group of dinosaurs known as prosauropods, the ancestors of sauropods - huge, four-legged dinosaurs with long necks.
Having studied the tiny (20cm-long) skeletons, the researchers noted that the embryos were almost about to hatch - but never had the chance.
Interestingly, the report says, the embryos looked quite different compared to the adult animals.
Once hatched, the babies would have had rather long front legs, meaning that they would have been walking on all fours rather than on two legs like the adults.
The embryos' heads were also disproportionally big, but it is believed the adult Massospondylus, which were about five metres in length, had relatively tiny heads and long necks.
The little ones' anatomy would have changed with age.
Dr Reisz's research assistant Diane Scott spent several months preparing the specimens.
"The materials are so delicate that work on them is extremely difficult and there is great danger of damaging these extremely old embryonic materials," Dr Reisz told BBC News.
"They are after all, the oldest known such specimen. They were therefore left untouched by the staff of the University of the Witwatersrand until we became interested in looking at the embryos as part of another project."
The paper stated that the rather awkward body of the embryos suggested that just like humans, the hatchlings would have required parental care. And if this is the case, it would be the earliest known example of parental care.
Related Internet Links
The BBC is not responsible for the content of external sites.