Impact 'catastrophe calculator' updated
By Jonathan Amos
Science correspondent, BBC News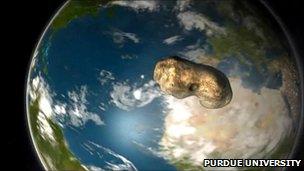 Want to know what would happen if a 10km-wide asteroid came out of the sky and slammed down on your city?
Scientists at Purdue University and Imperial College London have updated their popular impact effects calculator first produced in 2004.
Users dial in details about the hypothetical impactor, like its diameter and density.
The web program then estimates the scale of the ensuing disaster, such as the size of the crater left behind.
It will also tell you how far away you need to be to avoid being buried by all the material thrown out by the blast, or set on fire.
The original calculator was a "big hit" when it was released, not just within the research community but with a curious public, also. Devised by Purdue's Professor Jay Melosh and colleagues, it is underpinned by scientifically accurate equations.
Many government organisations and scientific institutions regularly link to the calculator as an education tool.
The updated program, known as Impact: Earth! incorporates some additional impact effects, such as the tsunami wave height from an ocean collision. But the key difference those familiar with the old tool will notice is the much more visual and user-friendly interface.
"We've had to update things as knowledge has improved," said Imperial's Dr Gareth Collins.
"One of the major new additions is the estimates for tsunami wave height at a given distance away from an ocean impact. This had been a popular request, but we didn't put it in the original calculator because there simply wasn't consensus back then on what the hazard was. There's since been some good research and we now have a better understanding of the issue," he told BBC News.
On average, an object about the size of car will enter the Earth's atmosphere once a year, producing a spectacular fireball in the sky.
About every 2,000 years or so, an object the size of a football field will impact the Earth, causing significant local damage.
And then, every few million years, a rock turns up that has a girth measured in kilometres. An impact from one of these can produce global effects.
"The site is intended for a broad global audience because an impact is an inevitable aspect of life on this planet and literally everyone on Earth should be interested," said Dr Melosh.
"There have been big impacts in the past, and we expect big impacts in the future. This site gives the lowdown on what happens when such an impact occurs."
Purdue servers host the new calculator; Imperial will continue to host the old web program. This is being retained for those internet users who do not have fast connections.
The Imperial site is also trialling a tool that will enable users to map the impact effects on to the virtual globe software Google Earth.
"When we first launched the calculator, we hoped it would be a useful tool for scientists working in the field and for those people who were simply keen to find out more when a new crater was discovered and they wanted to understand the consequences if that event had happened yesterday," recalled Dr Collins.
"So we thought there would be some curiosity, but we were simply blown away by the interest."
Related Internet Links
The BBC is not responsible for the content of external sites.