Key UN climate talks open in China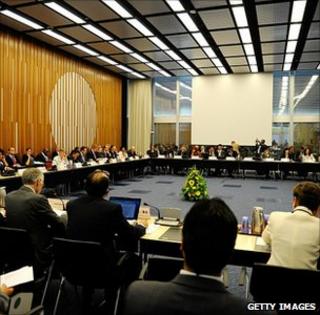 The final round of UN climate talks before this year's summit in Mexico, which begins at the end of November, has got under way in China.
Delegates will be aiming to narrow differences on the negotiating text ahead of the Cancun summit.
Last year's summit in Copenhagen, billed as a make-or-break year, ended in disarray without a legally binding deal to curb global climate change.
The meeting, being held in Tianjin, is scheduled to last until Saturday.
Christiana Figueres, executive secretary of the UN Framework Convention on Climate Change, played down expectations of a binding deal being struck at this year's summit.
"Let me be clear - there is no magic bullet, no one climate agreement that will solve everything right now," she said in a statement ahead of this week's talks.
"To expect that is naive. However, I am certain the world can do this step by step, but only if we keep on walking firmly in the right direction, including at Cancun."
But Ms Figueres added that this year's gathering would be "the place where governments need to take the next firm step on humanity's long journey to meet the full-scale challenge of climate change".
'Political compromise'
The agenda at the meeting in Tianjin is focusing on two main topics:
Industrialised nations' commitments under the Kyoto Protocol, including further emission reductions after 2012, when the current period ends
Progress on a draft negotiating text for the Cancun summit
Ms Figueres called on delegates attending the Tianjin talks to "cut down the number of options" currently being considered.
Instead, she observed: "Identify what is achievable in Cancun and muster political compromises that will deliver what needs to be done."
Last year's Copenhagen summit ended with delegates at the 193-nation UN conference simply "taking note" of a US-led climate deal that recognised the need to limit temperature rises to 2C (3.6F).
For many environmental groups, it was a massive anti-climax to a gathering where expectations had been high for a legally binding deal to be struck.
Friends of the Earth's senior international climate campaigner Asad Rehman said a number of industrialised nations were hampering progress.
"The future of the Kyoto Protocol is in doubt because of US attempts to weaken the framework already in place to tackle climate change internationally - and now other countries, including Australia and Japan, are racing to put the lowest possible voluntary pledges on the table," he said.
He called on rich countries to meet their responsibilities outlined in the Kyoto Protocol, and "agree tough new emissions targets of at least 40% by 2020 (from 1990 levels) without offsetting".
Mr Rehman warned: "Only action on this scale will give the UN climate summit in Cancun the momentum needed to agree strong and fair action on climate change.
"If the US is unwilling to demonstrate a similar level of ambition then they should step aside from the negotiations rather than obstruct them."