Ivory seized in airport luggage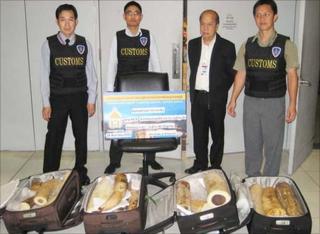 Thai customs officers have reportedly seized more than 90kg of ivory being smuggled into the country in luggage.
The seizure at Suvarnabhumi International Airport in Bangkok consisted of 16 pieces of cut ivory packed into four large pieces of luggage.
The luggage came from an Ethiopian Airlines flight from Addis Ababa.
The case is now under review, says the wildlife trade monitoring organisation Traffic.
A suspect is now in custody in the country.
Thailand, together with Nigeria and the Democratic Republic of Congo, were identified as the three countries most heavily implicated in the global illicit ivory trade in the most recent analysis of the Elephant Trade Information System (ETIS).
ETIS is the world's largest database of elephant product seizure records.
Thai customs officers also seized two tonnes of ivory in February, 1.4 tonnes in April and close to 800kg in July, all at the Suvarnabhumi International Airport.
Ekalarp Rattanarut, director of the Suvarnabhumi Airport passenger control customs bureau, said "strong measures" were being taken to ensure that procedures under the Convention on International Trade in Endangered Species of Fauna and Flora (Cites) were adhered to at every check-point across Thailand.
Chris Shepherd, deputy regional director of TRAFFIC Southeast Asia, said customs were to be commended for the seizure, but added: "The fact this trade continues illustrates that Thailand's domestic ivory market remains a serious issue."